Rhode Island Community Health Centers Honor Speaker Shekarchi, and Senate President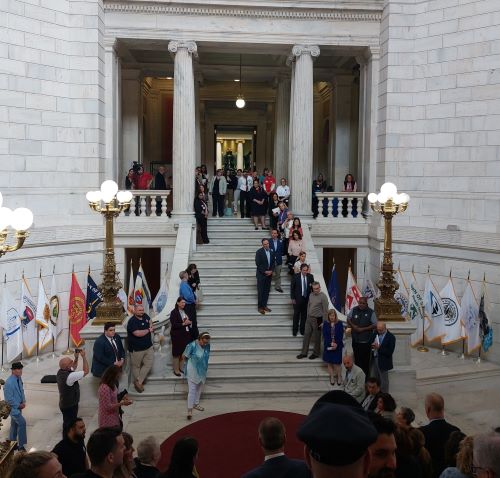 RIHCA's members host Community Health Center Day at the Rhode Island State House, tout benefits of investment in community health
PROVIDENCE, RI – The Rhode Island Health Center Association (RIHCA) and its members honored House Speaker K. Joseph Shekarchi and Senate President Dominick Ruggerio as the Community Health Center Legislators of the Year for their support of public investments in community health. Community Health Centers provide essential and affordable primary care, mental health, and dental care to 190,000 Rhode Islanders.
"Speaker Shekarchi and Senate President Ruggerio's efforts have strengthened access to care in every community in Rhode Island. Their support for community health centers to secure funding to retain employees, the Senate President's leadership in addressing lead poisoning, and the Speaker's commitment to housing reflect our shared commitment to all Rhode Islanders and their health," said Elena Nicolella, President and CEO of RIHCA. "Every Rhode Islander deserves equal access to affordable, high-quality, culturally sensitive, comprehensive health care. Community Health Centers provide that access."
In addition to the event honoring the Senate President and Speaker, resolutions were read into the record on the floors of the House and Senate recognizing Rhode Island's community health centers.
President of the Senate Dominick J. Ruggerio said, "Our community health centers help ensure all Rhode Islanders can access the care they need. Supporting community health centers is also a wise investment, because it enables Rhode Islanders to access care in less costly settings. I am fortunate that the Senate's commitment to community health centers is truly a team effort, and it is a priority shared by Health and Human Services Chairman Joshua Miller, Finance Committee Chairman Louis DiPalma, and truly each and every senator. Most of all, I am grateful to the dedicated providers who work to ensure every Rhode Islander has access to the care they need."
"I am proud to support the transformative care provided by our community health centers, and I thank all of our community health workers for their efforts to improve health outcomes for all Rhode Islanders," said Speaker K. Joseph Shekarchi. "Community health centers provide necessary assistance, regardless of background or economic status. These health centers offer critical access to care for some of our most vulnerable residents who might not otherwise have health care services."
For over 50 years, community health centers in Rhode Island have provided high-quality affordable, comprehensive primary and preventive health care in our state's underserved communities, delivering value to, and having a significant impact on Rhode Island's health care system. As one of the state's largest primary care networks, community health centers provide medical, dental, and behavioral health care to 190,000 individuals across the state; often the only accessible, affordable, and dependable source of primary care in their communities.
Rhode Island's network of community health centers include:
Blackstone Valley Community Health Care Inc.,

Comprehensive Community Action Program,

East Bay Community Action Program,

Providence Community Health Centers,

Thundermist Health Center,

Tri-County Community Action Agency,

WellOne Primary Medical & Dental Care, and

Wood River Health.
In Rhode Island and across the nation, community health centers develop new approaches to integrating a wide range of services beyond primary care, including oral health, vision, behavioral health, and pharmacy services, to meet the needs and challenges of their communities.
Healthy communities are built through partnerships and with investments in community-led care. Rhode Island community health centers offer a pathway to health care that's affordable and accessible for every Rhode Islander. A strong network of community health centers provides a foundation for a vibrant state. Speaker Shekarchi and Senate President Ruggerio have been champions for community health workers who deliver care and keep Rhode Island healthy.
The community health center model continues to prove an effective means of overcoming barriers to healthcare access, including geography, income, and insurance status – improving healthcare outcomes and reducing healthcare system costs.
About Rhode Island Health Center Association:
Since 1972, the Rhode Island Health Center Association (RIHCA) has been the voice of community-based primary care health programs. Focusing on Rhode Island's community health centers, the Association plays a vital role in educating federal, state and local policymakers about issues relating to health care and the role of the community health centers in the healthcare continuum. RIHCA has a long and accomplished history of providing support to the community health centers. For over 50 years, the Association has witnessed the emergence of the community health center movement and has supported the development and expansion of community health centers throughout Rhode Island. During this period, the needs of the community health centers have changed in response to their communities and to the overall health care environment, and consequently, so has the Association's response to the community health centers.