Rhode Island Democratic Leaders Endorse Stefan Pryor for General Treasurer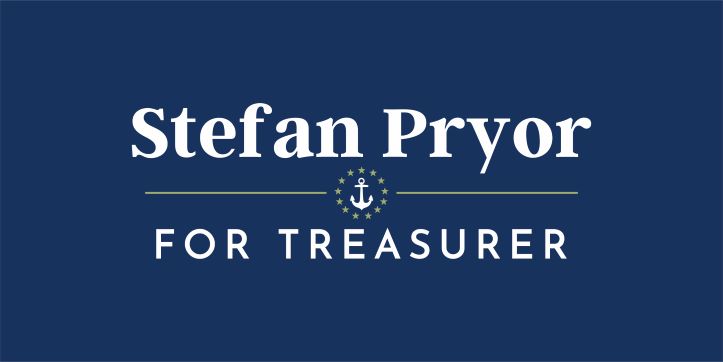 Providence, RI: Today, Democrat candidate for Treasurer, Stefan Pryor, receives the endorsement from 22 Democratic Leaders across Rhode Island.
"Stefan is the public servant Rhode Island needs to responsibly manage our finances, protect our retirees, and strengthen our economy. He has the experience managing billions of public dollars under tough and trying conditions, and I know he will always keep a watchful eye on our state's investments. I am proud to support his candidacy, and believe fully in his leadership as Rhode Island's next Treasurer," stated Newport Mayor Jeanne-Marie Napolitano. Pryor has also earned the endorsement of the Newport Democratic City Committee.
"I'm grateful and honored to receive the endorsement of so many Democratic elected officials from across our state," said Stefan Pryor, Democratic Candidate for Rhode Island General Treasurer.  "Our local and state leaders have led their communities through economic twists and turns — including the pandemic-related downturn and the economic recovery that has followed. These leaders know what we need in our next Treasurer: a public sector professional who's ready to guide Rhode Island through whatever  new economic challenges come our way — inflation, recession, or otherwise. Together we will position the Treasurer's office as a guardian of the economy and catalyst for growth, continuing and deepening critical investments in our infrastructure, our public schools, and our small business community."
---
The following Democratic leaders today announced their endorsement of Stefan Pryor to be Rhode Island's next General Treasurer:
Mayor Jeanne Marie Napolitano
Speaker Pro Tempore Brian Patrick Kennedy
Chairman Stephen Casey
Chairwoman Kathleen Fogarty
Chairwoman Patricia Serpa
Chairwoman Camille Vella-Wilkinson
Chairwoman Anastasia Williams
Deputy Majority Leader Julie Casimiro
Deputy Majority Leader Robert Phillips
State Representative Jacquelyn Baginski
State Representative June Speakman
Senator Roger Picard
Lincoln Councilwoman Pam Azar
Warwick City Councilor William Foley
Newport City Councilwoman Elizabeth Fuerte
Providence City Council President John Igliozzi
Cumberland Council President Michael Kinch
Scituate Town Clerk Margaret McGraw Long
Former State Senator Daniel DaPonte
Former State Senator Daniel Issa
Former State Representative Jan Malik
Former State Representative Michael Morin
Prior to his service as Rhode Island's Commerce Secretary, Stefan was the President of the Lower Manhattan Development Corporation, the public agency charged with coordinating the rebuilding of Lower Manhattan after September 11th. He also served as Deputy Mayor for Economic Development in Newark, NJ, and as Connecticut's Education Commissioner.