Rhode Island Police Chiefs Endorse Cicilline's Active Shooter Alert Act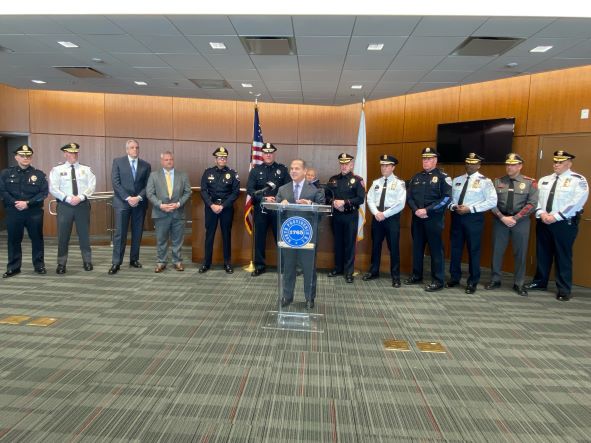 Cicilline's Bipartisan Legislation Creates a New Public Safety Alert System
NORTH PROVIDENCE, RI – Congressman David N. Cicilline (RI-01) was joined today by Attorney General Peter Neronha, Mayor Charles Lombardi, the Rhode Island Police Chiefs Association (RIPCA), and local law enforcement officials as RIPCA announced its endorsement of the Congressman's bipartisan H.R.6538, the Active Shooter Alert Act.
According to the FBI, there were 40 active shooter events in 2020. The Bureau defines an active shooter event as an incident where "one or more individuals actively engaged in killing or attempting to kill people in a populated area." These incidents put a huge strain on our law enforcement officials. Among the many challenges facing law enforcement during these crises is preventing additional victims from unknowingly walking into the line of fire. Law enforcement and other independent review commissions have urged improvements in emergency communications systems.
Congressman Cicilline's Active Shooter Alert Act would create a program similar to the AMBER Alert system for law enforcement to alert the public to active shooters in their community. In addition to the Rhode Island Police Chiefs Association, the legislation is endorsed by the National Sherriff's Association, Major Cities Chiefs Associations, National Association of Police Organizations, Fraternal Order of Police (FOP), National Police Foundation, and National District Attorneys Association.
"Just last month, we witnessed and felt the terror of an active shooter right here in Rhode Island, as a gunman fired hundreds of rounds at Providence Police Officers from his home in a dense residential neighborhood – just a four-minute walk from a public school and a playground," said Congressman Cicilline. "So, the question is, as we work to combat gun violence, how do we keep the public safe if and when there is an active shooter? The bipartisan Active Shooter Alert Act, by creating an AMBER Alert-like system for active shooter events, will provide law enforcement with a much-needed tool, one that will allow them to send notifications to our phones and let communities know if there is an active shooter in a certain area – so that we know to stay away."
"As both a husband and father to a schoolteacher, I am professionally and personally elated to have this federally sponsored alert program available for all our school-aged children, concerned parents and educational staff. As a Chief of Police, having additional tools to address a complex problem in our society adds additional resources to all law enforcement leaders during critical moments of chaotic, challenging, and dangerous situations. Notably, we will have resources to effectively communicate these active, ongoing, and imminent threats to our communities, thus warning the public to avoid dangerous areas in a timely manner," said Chief Kevin Lynch, Bristol Police Department and Vice President of the RIPCA.
"We owe it to both our partners in law enforcement and to Rhode Islanders to put forth and support common sense initiatives that will bolster public safety," said Attorney General Peter F. Neronha. "The bipartisan bill that Congressman Cicilline has sponsored smartly builds upon existing systems to achieve an important public safety goal. I applaud the Congressman and his colleagues for their work on a beneficial piece of legislation that has already garnered the notable support of the Rhode Island Police Chief's Association and other law enforcement organizations around the country."
"Communities across the country are experiencing more violent crimes than ever.  By enacting this common-sense Active Shooter Alert Act, communities will now have help with accurate information and technology that can be utilized to prepare for another senseless shooting," said Mayor Charles Lombardi.
A one-pager on H.R.6538, the Active Shooter Alert Act can be found here.