RIC IS A PIPELINE FOR MULTILINGUAL TEACHING CAREERS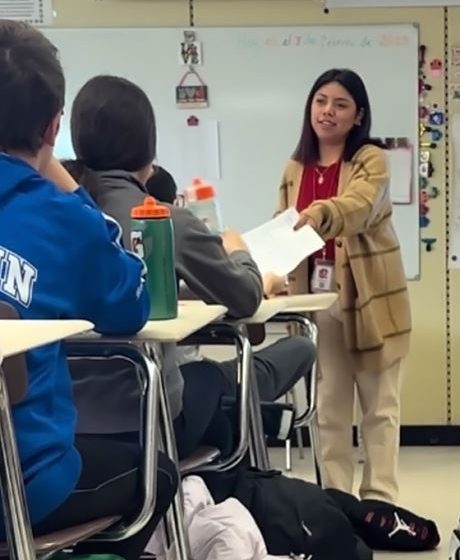 RIC's World Languages Education and RITE programs are pathways for certification to teach Spanish, Portuguese and French.
Many states in the country are facing a shortage of multilingual teachers, including Rhode Island. Rhode Island College is narrowing those challenges by providing three different programs leading to certification to teach Spanish, Portuguese and French.
The B.A. and M.A.T. in world languages education prepare you to teach grades PK-12 and the Rhode Island Teacher Education (RITE) Program prepares you to teach grades 9-12 in secondary content areas and PK-12 in world languages.
Erin Papa, RIC assistant professor and program coordinator for the World Languages Education Program, notes that these programs are accredited by the Rhode Island Department of Education and are more flexible in their requirements now, which is attracting more students.
"We have a lot of adults in Rhode Island who are bilingual or multilingual," Papa says. "We're just trying to make a career in teaching languages a little more accessible."
She explains that Rhode Island is in need of more multilingual teachers who look like and share the experiences of our state's diverse population.
"It helps K-12 students to feel more comfortable in the classroom when they see that their language and experiences are valued by their teachers," she says. "When a student feels a connection with their teacher, they are more likely to be in class."
Today, Litzy Ramos (in photo above) is earning her B.A. in world languages education with a concentration in Spanish and Portuguese while completing her student teaching at Edward R. Martin Middle School (East Providence).
She says that her classes at RIC have helped her open her mind to new challenges, to explore new fields and to take risks. "This is something that I carry with me into my teaching. My purpose as a multilingual teacher is to open doors for my students to new worlds, new perspectives and to help them appreciate other cultures."
RIC's RITE program is another option for those who are multilingual and want to teach. "If you hold a bachelor's degree and have majored in or completed a substantial amount of coursework in one of the following areas: mathematics, biology, chemistry, English, French, general science, history, physics, Portuguese, social studies or Spanish, you may pursue secondary education or PK-12 world languages teaching certification through this program," says Professor Janet Johnson, coordinator of the RITE program.
She adds, "This is not a degree program but is designed so that successful applicants can, in most cases, complete the required course work within five consecutive semesters and earn teaching certification."
Jose Tarrazo is a RITE student who holds a master's degree in Spanish and started out in the education field as a substitute teacher. "Doing substitute work ignited a calling within me," he says. "The students gravitated toward me, related to me and some of them even wondered about the possibility of going into higher education after learning about my experience."
Today, Tarrazo is a full-time Spanish teacher at Central High School in Providence, where around 70 percent of the students are Hispanic and most speak Spanish. He was able to obtain emergency certification through the Rhode Island Department of Education while he completes the RITE program.
"Through my courses at RIC, I'm learning different ways to connect with my students. I'm learning the differences in how children learn and how important it is to have the social-emotional check-ins with your students during class that help you get closer to them," he says.
Both Tarrazo and Ramos praise Rhode Island College, not only for the high quality of its educational programs but because of the dedicated and inspirational teachers they've had. Their journey has helped them see the importance of multilingual programs and how essential they are to keeping native languages alive.
Papa hopes to develop more certification programs in other languages that reflect the many diverse communities of Rhode Island.
For information about the World Languages Education Program, contact Assistant Professor Erin Papa at epapa@ric.edu.  For information about the RITE Program, contact Professor Janet Johnson at jjohnson@ric.edu. 
A webinar on "Language Policies to Support Multilingualism" will be held on Wednesday, March 1, 6-7 p.m. Experts will speak about the intersections of immigration, multilingualism and policy. This event is free and open to the public. Register on the Webinar Registration page.
On Wednesday, March 29, 6-7 p.m., at Alger Hall 110, a focus-group meeting will be held titled "Supporting a Multilingual RI: Actions for RIC and the State." Participants will include RIC administrators, faculty, staff and students; state policymakers; educators; and community members. This event is also free and open to the public.
Both events are part of the Rhode Island College Spotlight on Multilingualism: RIC and the Community series, presented by the World Languages Education program, the Institute for Portuguese and Lusophone World Studies, the Committee for College Lectures and sponsored by the Coalition for a Multilingual RI.