RIC STUDENT VET, ALEX ORTIZ, WINS VFW-SVA LEGISLATIVE FELLOWSHIP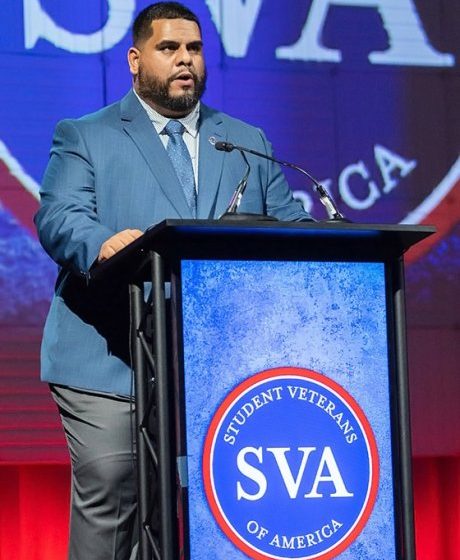 Ortiz will conduct research on Post-9/11 GI Bill benefits and address legislators about amending the bill.
Alex Ortiz, president of RIC's Student Veterans Organization, is among five student veterans across the country awarded the 2022 VFW-SVA Legislative Fellowship, sponsored by Veterans of Foreign Wars (VFW) and Student Veterans of America (SVA).
A senior accounting major, Ortiz will engage in a full semester of research, present a one-page brief to congressional delegates on Capitol Hill summarizing his research and speak for five minutes on the issue.
Ortiz will focus his research on the Post-9/11 GI Bill, an Act of Congress that was passed in 2008 wherein the government pays tuition and fees, a monthly housing allowance and a stipend for textbooks and supplies for eligible veterans attending four-year public colleges and universities.
"The problem with the language in this bill," Ortiz says, "is that educational benefits expire in 15 years if a veteran ended their service before Jan. 1, 2013. If we're calling it Post-9/11 and 9/11 happened in 2001, why are we using 2013 as the cutoff date?"
"Imagine serving your country and being willing to give up your life for your country only to find that veterans who were discharged after you have better educational benefits than you have yet you served in the same war," he says.
The Forever GI Bill, which passed in 2017, eliminates the 15-year, use-it-or-lose-it constraint found in the Post-9/11 GI Bill; however, the new bill only applies to service members discharged on or after Jan. 1, 2013. Again, Ortiz, asks, "Why are we using 2013 as the cutoff date?"
He proposes that Congress change the language in the Forever GI Bill. He is asking that the bill state that benefits will be granted without expiration to any GI discharged after September 2001.
"I know from personal experience what it's like to run out of Post-9/11 GI benefits," Ortiz says. "I ran out before I came to Rhode Island College. In fact, I had exhausted all sources of financial aid. After researching the VA website, I found out about the Disabled American Veterans waiver that waives my tuition while I pay out of pocket for fees and books."
Ortiz is a disabled veteran who served in Iraq and Afghanistan from 2006-2013 and retired from service with multiple spinal cord injuries and two traumatic brain injuries.
"The work I do now is not on my behalf but on behalf of the thousands of veterans who are currently losing their entitlement to the Post-9/11 GI Bill," he says. "Though this fellowship lasts three or four months, my hope is that the work continues. I intend to hold a town hall meeting with veterans in Rhode Island to discuss the work I am doing. I also intend to follow up on these policies until they become law and to make myself available to elected officials until a new bill is passed."