SBA Director Joins Lt. Governor Dan McKee and Navigant Credit Union Highlighting Updates and Reforms to the Paycheck Protection Program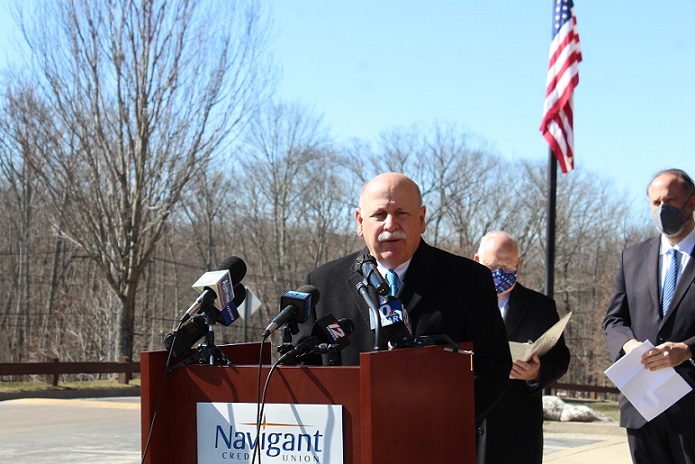 Photo: Navigant Credit Union President and CEO Gary Furtado
President Biden made changes to ensure more equitable access to small business relief
SMITHFIELD, R.I. – Friday, U.S. Small Business Administration's Rhode Island District Director Mark S. Hayward joined Lt. Governor Daniel McKee, Secretary of Commerce Stefan Pryor, and Navigant Credit Union President and CEO Gary Furtado at a press conference that highlighted the recent updates and reforms to the Paycheck Protection Program (PPP).
The event was hosted by Navigant Credit Union included remarks from Furtado followed by comments from Lt. Governor McKee and Secretary of Commerce Pryor. Lt. Governor McKee addressed the impact small business has in Rhode Island and the work he and others have done to aid small businesses during the pandemic.
Director Hayward spoke of the SBA's tireless efforts to administer PPP and ensure Rhode Island businesses can access the capital they need to recover. Hayward cited that to date; the SBA has approved over 26,000 forgivable PPP loans to Rhode Island businesses for over $2.7 billion.
Hayward went on to inform attendees about the updates to PPP, including the changes recently made to the program by President Biden. "Just a few short days ago, President Biden and his team asked all of us to focus on providing more equitable access to small business capital," said Hayward. He continued, "We have answered the President's call, and as such, the Agency will, for the next 12 days (the program opened on Wednesday), only approve loans for businesses with less than 20 employees."
Hayward addressed the updates and reforms to the program, such as:
Instituting a 14-day period during which only businesses with fewer than 20 employees can apply for relief through PPP. This period began on Wednesday, February 24th, and will run through Tuesday, March 9th.
Revised PPP Funding Formula for sole proprietors, independent contractors, and self-employed individuals.
Allow sole proprietors, independent contractors, and self-employed individuals to receive more financial support by revising the PPP's funding formula and creating a $1 billion set-aside for these categories of applicants.
Director Hayward explained the impact of these changes, "This will allow sole proprietors, independent contractors, and the self-employed to use 'line 7 instead of Line 31' on their 1040 Schedule C tax return, thereby increasing the amount of support they will receive."
Types of businesses impacted by this change will include contractor's beauticians, small independent retailers, personal trainers, etc. Statistics say that over 60 percent of businesses without employees are owned by women and people of color. The $1 billion set aside will focus on those who are located in low and moderate-income areas.
The President's Directive will also:
Eliminate exclusionary restrictions for prior non-fraud felons
Removal of Student Loan Delinquency Restrictions
Access for non-citizen small business owners who are law U.S. residents
Lastly, Hayward addressed the SBA's Resource Partner network, which is standing by to help business owners apply for First- and Second-Draw PPP loans as well as PPP Forgiveness. These resource partners provide free counseling and aid and include the Rhode Island Small Business Development Center, SCORE, the SBA's Women's Business Center – The Center for Women & Enterprise, and the Veteran Business Outreach Center of New England.
For a full list of the changes made to the Paycheck Protection Program click HERE.
Questions or concerns? Please direct any inquiries to RhodeIsland_DO@sba.gov.