Senator Tiara Mack Endorses Gonzalo Cuervo for Mayor of Providence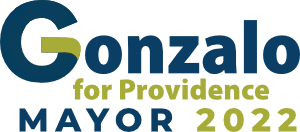 PROVIDENCE, RI — State Senator and organizer Tiara Mack has endorsed Gonzalo Cuervo for Mayor of Providence. Senator Mack says she based her decision to endorse Cuervo due to his platform of economic development based on local needs in each neighborhood, improving housing affordability for both renters and homeowners, and tackling the city's crisis of economic inequality.
"Over the course of the campaign, I've gotten to know Gonzalo, and he's demonstrated to me
that he's the candidate with Providence's best interests at heart," said Senator Mack. "He understands what our neighborhoods need, what our students and families need, and ultimately, what Providence needs. Whether it's breaking the cycle of poverty that traps minority and low-income families in failing systems or ensuring that Providence is affordable for all, Gonzalo has proven that he can bring together inclusive teams that will tackle the most important issues facing our city. I'm proud to endorse Gonzalo Cuervo for Mayor of Providence."
Senator Mack represents District Six in the State Senate, which contains the neighborhoods of Mount Hope, Downtown, South Providence, and some of Washington Park. An educator and activist, Senator Mack has worked as an Educator and Youth Organizer, empowering young people to engage in local and national social issues. She serves as a Board Member of Women's Health and Education Fund (WHEF).
"I'm proud to have Senator Mack's support. She has brought an incredible energy and important perspective to Rhode Island and Providence, and she cares deeply about improving our city and our lives here. What makes her endorsement especially notable to me, beyond her importance in our politics, is that few other senators represent as diverse a district as Senator Mack, one that is so reflective of the diversity of Providence. She knows what it takes to speak to many different communities about both the issues we all share and those that specific communities face." Cuervo said.
He continued: "That's what our city needs to get right, so we ensure we're winning real change for the people of Providence in City Hall and at the State House. We're assembling a coalition that believes in Providence. Thank you Senator Mack for joining that coalition."
Senator Mack is the tenth serving elected official in Providence to endorse Cuervo for Mayor; she is the fourth of the city's senators and the seventh member of Providence's General Assembly delegation to endorse. Other General Assembly endorsers include senators Maryellen Goodwin (District 1 – Smith Hill), Ana Quezada  (District 2 – Elmwood), and Sam Bell (District 5 – Mount Pleasant, Elmhurst, Federal Hill, Valley, West End) and state representatives Grace Diaz  (District 11 – Elmwood and West End), Jose Batista (District 12 – Washington Park and South Providence), and Ramon Perez (District 13 – Silver Lake). Three Providence city councilors have endorsed Cuervo as well; councilors Mary Kay Harris (Ward 11 – South Providence, West End, and Elmwood), Kat Kerwin (Ward 12 – Smith Hill, Valley, and Elmhurst), and Rachel Miller (Ward 13 – Federal Hill and West End).
In addition, Cuervo is also endorsed in the primary by former Mayor Angel Taveras, Secretary of State Nellie Gorbea, Mayor of Central Falls Maria Rivera, Sen. Sandra Cano and Rep. Karen Alzate of Pawtucket, and city councilors Lammis Vargas (Cranston) and Franklin Solano (Central Falls). Finally, dozens of diverse community and neighborhood leaders across the city who want to move Providence's families, neighborhoods, and the city forward also endorse Cuervo (a larger list is available on Cuervo's website at https://www.gonzaloforprovidence.com/endorse-gonzalo).