Senators Lawson and DiPalma Endorse Sandra Cano for Congress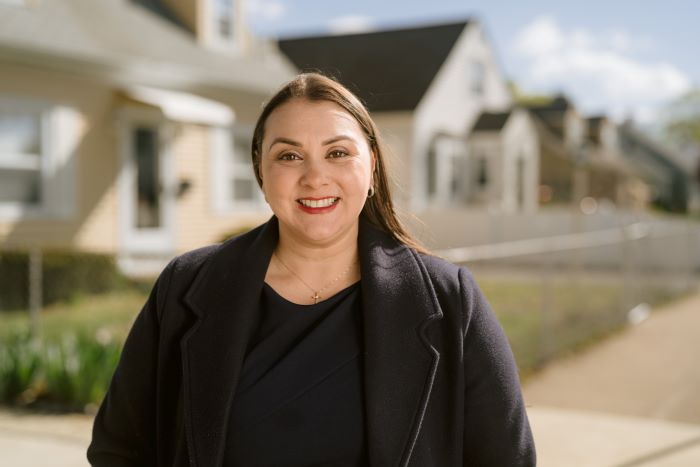 EAST PROVIDENCE, RI – State Senators Louis DiPalma (SD12 Little Compton, Middletown, Newport, Tiverton) and Valerie Lawson (SD14 East Providence) announced today that they are supporting and endorsing Sandra Cano in the race for Congressional District One.
Of his endorsement, Senate Finance Chairman Louis DiPalma said: "I've worked with Sandra since she was elected to the State Senate. We serve on the Finance and Education Committees together and I have watched her work hard to build support to pass policies that affect children and families across Rhode Island. I know that she will bring this tenacity to Congress and will work hard to make sure Rhode Island is well represented. Sandra is a hard worker and she really has what it takes to make a difference. She has secured wide-spread support across the district. She can and will win this. I am proud to support her."
Senator Valerie Lawson, who serves in the Senate as a Deputy Majority Leader, added: "Sandra Cano is one of the hardest working leaders I know. Year after year she fights to improve our schools and the lives of our children and families. She pays attention to the details and works to build support amongst her colleagues –  because that's what matters. Sandra always shows up and does the work to build coalitions and support for the issues that matter to Rhode Islanders. Sandra is the right leader at the right time to lead us in Congress and I encourage everyone to vote for her in this special election."
Sandra Cano said of these endorsements, "I am so honored to have the support of colleagues. Together we have made big changes for Rhode Island – and now we are building a large coalition that is spreading across the district, and a movement to win in September and November."
Senators Louis DiPalma, and Valerie Lawson join a growing list that now includes three dozen local leaders who have endorsed Sandra Cano for Congress including:
Mayors: Pawtucket Mayor Don Grebien, North Providence Mayor Charlie Lombardi, Former Cumberland Mayor Bill Murray, Former Pawtucket Mayor Robert Metivier;
Municipal Leaders: Pawtucket City Council President Terrence Mercer, Pawtucket City Council At-Large Members Michael Araujo, Roberto Moreno and Yesenia Rubio; Pawtucket City Council Members Mark Wildenhain, Neicy Coderre, and Marlena Martins Stachowiak; the entire Pawtucket School Committee (members James Chellel Jr., Chair, Kimberly Grant, Deputy Chair, Joanne Bonollo, Jennifer Carney, Gerard Charbonneau, Erin Dube, and Marsha Fernandes); as well as Central Falls Officials Robert Ferri (City Council President), Tatiana Baena (City Council At Large), and Hugo Figueroa (School Board Member and former City Councilor); Bristol Town Council Member Timothy Sweeney; and Portsmouth School Committee Vice Chair Juan Carlos Payero;
State Senators: Dawn Euer (SD13 Newport, Jamestown), Meghan Kallman (SD15 Pawtucket, Providence), Robert Britto (SD18 East Providence, Pawtucket), Melissa Murray (SD24 Woonsocket, North Smithfield), Mark McKenney (SD30 Warwick), Pamela Lauria (SD32 Barrington, East Providence, Bristol), and Alana DiMario (SD36 Narragansett, North Kingstown, New Shoreham); and Former State Senator Jim Seveney (SD11 Portsmouth, Bristol, Tiverton)
State Representatives: Rebecca Kislak (HD4 East Side of Providence), Joshua Giraldo (HD56 Central Falls), and Karen Alzate (HD60 Pawtucket, Central Falls ).
These leaders have committed to working with Sandra in their communities to get out the vote for her in the Democratic Primary. This includes knocking on doors, phone calls and texts, emails and events.
Sandra Cano has been serving Rhode Islanders for over a decade. She is the only candidate in this race with legislative experience at every level of government in Rhode Island. On the Pawtucket School Committee, she worked to defend the public education system that welcomed her as a teenager in this country. As a Pawtucket City Councilwoman, Sandra saw how city government directly affects residents, and she worked to shape policies that had a positive impact on their daily lives. Now in the State Senate, Sandra proudly gives voice to the diverse communities of District 8. Sandra is chair of the Senate Education Committee – the first Latina to hold the position. She serves as a member of the Senate Finance Committee and the Permanent Joint Legislative Commission on Child Care. If elected, Sandra will be the first Colombian American woman to serve in Congress.