Skyhigh Dominicana Airlines announces new routes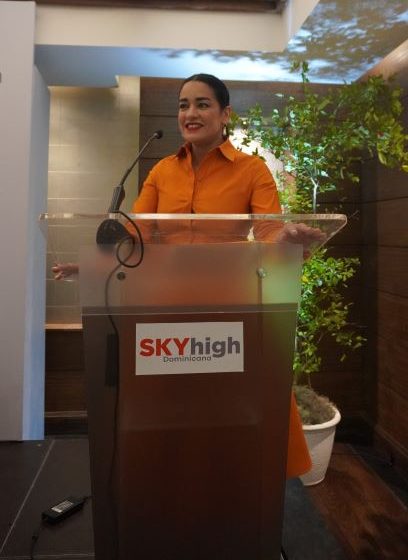 The airline expands its destinations from Santo Domingo, and now also from Santiago and Punta Cana to North America and the Caribbean.
Santo Domingo, Dominican Republic – Skyhigh Dominicana does not stop on its route to the expansion of its destinations. It has just announced that, from now on, it has new operations from Santo Domingo, as well as from Santiago and Punta Cana.
The information was provided by Cesarina Beauchamp, the airline's commercial director, who highlighted: "Today, we proudly want to inform you of the start of five new routes as part of our continued expansion plan. This reaffirms our commitment to connect the Dominican Republic with the North, South, and the rest of the Caribbean; now with operations from the Cibao International Airport, the Punta Cana International Airport, and two new destinations from the José Francisco Peña Gómez International Airport, "she explained.
She stated that, from Santiago de los Caballeros, Skyhigh Dominicana will have  direct flights to Miami, Florida three times a week: Monday, Thursday and Sunday, and to the city of Providence, Rhode Island, they will be on Thursdays and Sundays. With these routes they will unite the northern part of the country, thus promoting air connections and promoting the constant economic and tourist development of the region.
Likewise, the executive informed that, from the Punta Cana International Airport, Skyhigh will have three frequencies a week to the Miami International Airport. It will be every Monday, Thursday and Sunday, to make it easier for the passenger to enjoy one of the most important and attractive tourist destinations in the Dominican Republic. "With this important addition, SkyHigh is determined to continue expanding the possibilities of promoting tourist destinations, thus contributing to their development," she pointed out.
More route expansion
Additionally, the airline has included its portfolio of routes, to Valencia. "This important industrial and commercial city becomes our second destination in Venezuela, with two weekly frequencies, every Wednesday and Saturday," highlighted Beauchamp.
But the expansion does not stop. They have also incorporated St. Croix, US Virgin Island. With this addition, together with the existing route to St. Thomas, the airline will cover the islands with the highest demographic concentration of Dominicans in that territory. The frequency will be two flights a week: Wednesdays and Saturdays.
These routes will be operated in the comfortable Embraer 190 aircraft with a capacity of 97 seats, nine seats in business class and 88 in economy class.
These flights are already available and can be purchased through the main travel agencies, direct sales offices, virtual travel agencies and on their website SkyHighDominicana.com.
The assistance
The activity carried out in Cava Alta was attended by Opinio Díaz, Vice Minister of Immigration and Consular Affairs; Fabién Gourdón, commercial director of AERODOM; José Ernesto Marte Piantini, president of the Civil Aviation Board; Héctor Porcella Dumas, Acting Director of the Dominican Institute of Civil Aviation, Pilot Brigadier General, Floreal Suárez Martínez, General Director of the Specialized Corps in Airport Security and Civil Aviation, Manuel Sajour, Marketing Director of the Punta Cana International Airport, and Alina Nicasio, commercial and billing manager of the Cibao International Airport, General Enrique García, General Consul of the Dominican Republic in Boston.
About Skyhigh Dominicana
SkyHigh Dominicana is a Dominican RAD 121 air operator, which during its 12 years of experience has obtained the following certifications: North American FAA 129 Certification, obtained in 2017, which accredits them to fly to its 48 states. In 2020 they were certified EASA for 36 European States including the French Caribbean; They are also ICAO certificates identified with the SHH code and IATA member designated DO and number 791, qualifying them in compliance with all national and international standards. This leading airline in the Caribbean, based on the intention to continue developing connectivity and tourism, maintains its focus on comfort, safety and customer service, and strives to exceed the expectations of its passengers on each flight. This is possible by implementing strict security measures and health protocols, with a fleet of modern aircraft and highly specialized personnel that make flying an exceptional experience.