Submissions Open for Photo Contest Theme for 2024 Calendar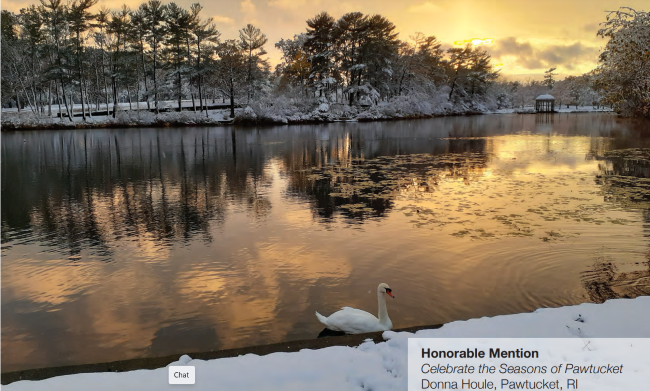 PAWTUCKET – Mayor Donald R. Grebien and contest organizer Patricia S. Zacks are calling for suggestions on a theme for the 2024 City Calendar.
Each year, a different theme is selected for the calendar. Submissions are entered on behalf of a wide range of residents – from students to local artists and beyond.
 "We want to reach out to the community and get them involved in the process as the city calendar is a staple in Pawtucket' said Zacks. "We can do so by giving folks from any photography background, or no background at all, a chance to enter the contest. But first, we need ideas for a theme!"
"The photo contest is a great way for students, residents, and visitors to highlight the beauty of our city from all different perspectives" said Mayor Donald R. Grebien. "Pawtucket is a community dedicated to the arts. What better way to showcase that than by having the community creatively involved in this process."
A team of professional photographers will review the submitted entries looking for creativity and a topic that has not been used in previous years. Past themes include:
Celebrate!

   

Pawtucket (2023)

 

Uniquely Pawtucket (2022)

 

Hiding in Plain Sight (2021)

 

Pawtucket Works (2020)

 

Pawtucket: A Closer Look (2019)

 

The Flavor of Pawtucket (2018)

 

Pawtucket's Color Palette (2017)

 

Pawtucket: A Different Perspective (2016)

 

A Piece of Pawtucket (2015)

 

All in a Day's Work (2014)

 

The Four Seasons of Pawtucket (2013)

 

Reflections of Pawtucket (2012)

 

Faces of Pawtucket (2011)

 

Doorways & Gateways in Pawtucket (2010)

 

Paws (or Pause) in Pawtucket (2009)

 

Historic Places in Pawtucket (2008)

 

Pawtucket People, Places or Things (2007)

 

Discovering Pawtucket (2006)

 

Taking Pride in Our Neighborhoods (2005)

 

Pawtucket Mills: Our Past and Our Future (2004)

 

Pawtucket: A City in Focus (2001, 2002, 2003)

 
Once a theme is selected and announced, submissions for the contest will open.
Use your creativity and suggest your themes to Patricia S. Zacks, The Camera Werks, at psz333@aol.com or send via mail to 766 Hope Street, Providence, RI 02906. The deadline for submission is Friday, February 10, 2023.
Remember to visit Pawtucket City Hall, 137 Roosevelt Avenue, or various municipal departments throughout the City to pick up a copy of the 2023 Calendar while supplies last.