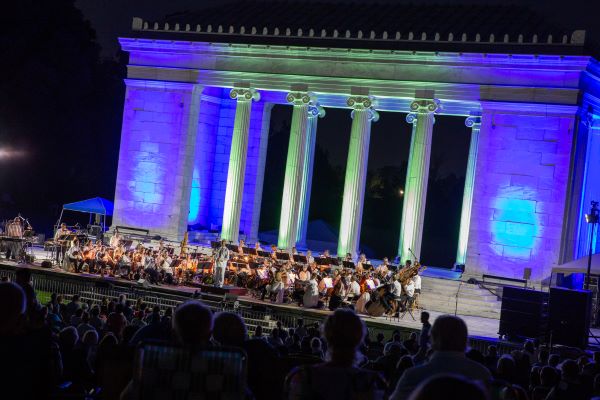 The Rhode Island Foundation and the City of Providence invite the public to a free performance of the Rhode Island Philharmonic Orchestra's Summer Pops in the Park concert at the Temple to Music in Roger Williams Park on Wednesday, August 2, beginning at 7:30 p.m.
"There is not a better spot to celebrate the spirit of community than Roger Williams Park," said David N. Cicilline, president and CEO of the Rhode Island Foundation. "As the state's only community foundation, we are glad to give our neighbors from throughout the city and the state the opportunity to come together and enjoy a remarkable evening of music."
This year's Pops concert is a tribute to the "Movie Maestro," John Williams. Concert-goers can expect to hear selections like "March of the Resistance" from Star Wars: The Force Awakens, "Flight to Neverland" from Hook, "Nimbus 2000" from Harry Potter and the Sorcerer's Stone, and the theme from Jurassic Park.
Conducted by Troy Quinn, the 60-piece orchestra will play a 90-minute set with no intermission. Free parking is available throughout Roger Williams Park. The rain date is Thursday, August 3.
This special evening of music and community is sponsored by the Providence Department of Art, Culture and Tourism, the Rhode Island Foundation, the Providence Tourism Council, the Roger Williams Park Conservancy and TACO/The White Family Foundation, with assistance from the Providence Parks Department.
We hope you'll join us to enjoy the Rhode Island Philharmonic, Roger Williams Park, and a beautiful summer night in the Ocean State.