The Adventure Park at Storrs Announces Friday April 1 as Its 2022 Season Opening Day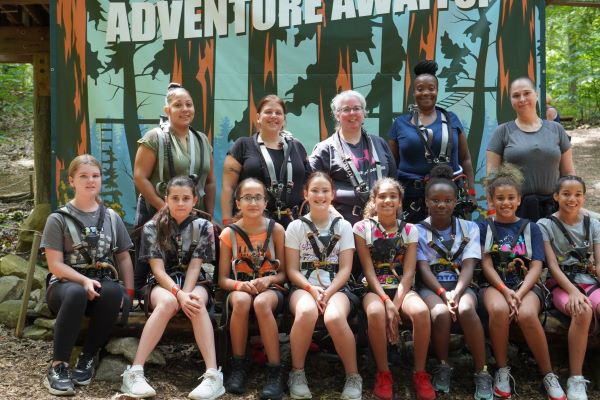 Storrs-Mansfield Adventure Park Offers Outdoor Fun for All Ages
Kids, Teens and Adults Enjoy The Adventure Park's 9 Trails and 26 Ziplines, Plus Outdoor Axe Throwing
Storrs, CT – March 9, 2022 – The Adventure Park at Storrs, the area's best zipline and climbing adventure experience, announced its season opening day on Friday April 1.  Tickets are now available for general admission, groups and birthday parties.
"We are counting down the days until we open again for the season," said Candie Fisher, President of The Adventure Park. "We've missed our adventure community and are excited to welcome them back to the Park."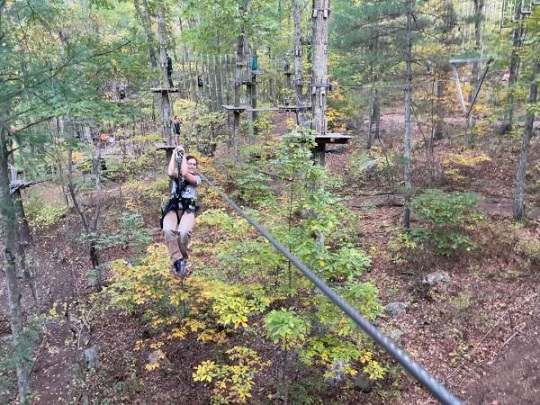 The 9 trails at The Adventure Park consist of various challenges in the trees, including bridges, tightropes, ladders, and 26 ziplines.  Participants wear harnesses with clips that connect to the trail's safety system, ensuring that they are always locked on to the course until they reach the end.  The main trails are designed for ages 7 to adult, and an Adventure Playground provides a low-to-the-ground adventure experience for little climbers ages 3-6.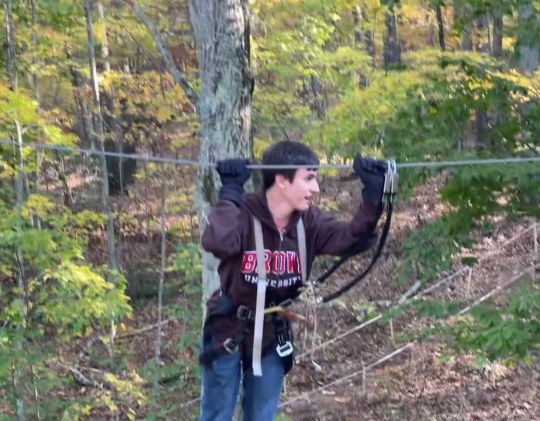 In addition to the treetop zipline and climbing experience, The Adventure Park at Storrs boasts the area's only outdoor axe throwing activity for ages 12+.  "Axe throwing continues to grow in popularity," said Jesse Pasacreta, Park Manager, "and we love to see groups of friends, families and co-workers enjoy some friendly competition in our axe throwing lanes."
Tickets for the Park's activities are available on the Park's website, myadventurepark.com/SAP.  Participants may choose day or evening timeslots, including the popular "Glow in the Park" event on Saturday nights starting April 24.  Glow in the Park is a themed event with music and glowing lights, creating a magical zipline and climbing experience.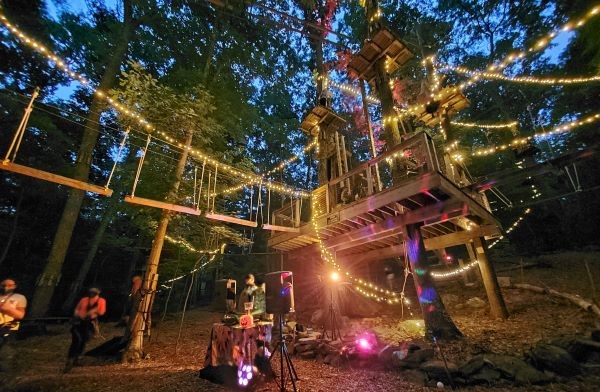 Non-climbing participants are admitted free of charge to share the experience on the ground and enjoy the property's nature trails, picnic tables and community firepit.
"We are actively hiring staff for our 2022 season," said Mr. Pasacreta.  "Interested candidates can apply for immediate openings on our Career Page.  Working at The Adventure Park is a great opportunity to be part of our mission to promote active enjoyment of the outdoors through adventure recreation."
The Adventure Park at Storrs is open to the general public and is located minutes from the UConn Campus.  The address is 2007 Storrs Road in Storrs CT.  Walk ins are welcome on a space available basis, but guests are encouraged to book ahead on the Park's website or by calling 860-946-0606.
The Adventure Park at Storrs is designed, built and operated by Outdoor Venture Group.
For further details and updates, please visit:
myAdventurePark.com/SAP or 860-946-0606.
2022 FULL SCHEDULE: Click Here