The City of Pawtucket To Host "McCoy's Final Inning" on July 3, 2023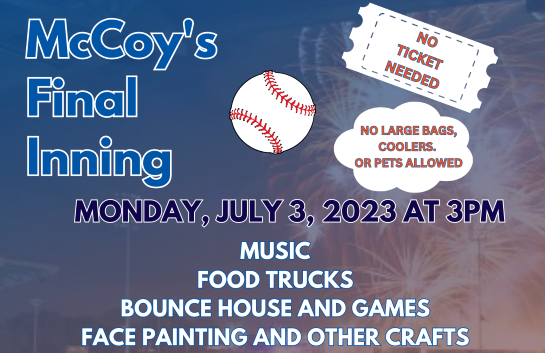 The City of Pawtucket will be hosting its annual fireworks celebration at McCoy one last time, on Monday, July 3rd beginning at 3 PM. PawSox fans will be invited onto the field to enjoy activities, music, and games as well as food trucks in the parking lot.
At 8:00 PM, the field activities will close down and anyone on the field without a wristband will no longer be allowed access. Wristbands will be available beginning at 3:00 PM on the day of the event and are first come first serve, one wristband per person.
Beginning at 8:45 PM, Mayor Grebien will kick off the speaking portion of the event honoring former PawSox President, General Manager, and Vice Chairman, Mike Tamburro for his service. The fireworks will begin at 9:20 PM.