THE LATIN RECORDING ACADEMY® ANNOUNCES ITS 2022 SPECIAL AWARDS RECIPIENTS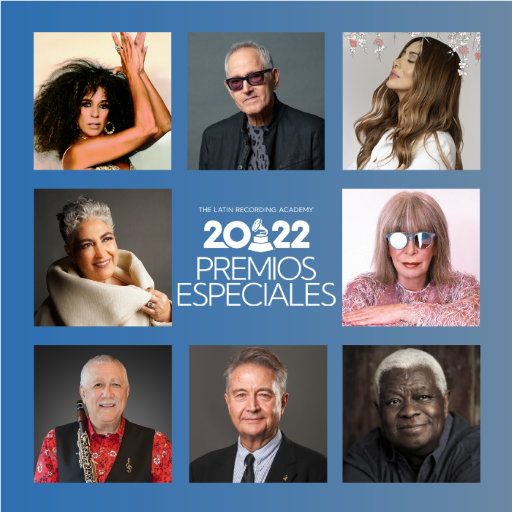 This year's honorees include Rosario Flores, Myriam Hernández, Rita Lee, Amanda Miguel, Yordano, Manolo Díaz, Paquito D'Rivera and Abraham Laboriel
MIAMI (AUGUST 25, 2022)
 — The Latin Recording Academy
®
 announced today that 
Rosario Flores
, 
Myriam Hernández
, 
Rita Lee
, 
Amanda Miguel
 and 
Yordano
 will receive this year's Lifetime Achievement Award, as part of its annual Special Awards Presentation. Additionally,
 Manolo Díaz
, 
Paquito D'Rivera 
and 
Abraham Laboriel
 will receive the Trustees Award.
"The collective accomplishments of this extraordinary group of artists and their contributions to Latin music are immeasurable," said Manuel Abud, CEO of The Latin Recording Academy. "It will be a great privilege to honor these legendary figures during Latin GRAMMY® Week in Las Vegas."
The Lifetime Achievement Award is presented to performers who have made creative contributions of outstanding artistic significance to Latin music and its communities. The Trustees Award is bestowed on individuals who have made significant contributions to Latin music during their careers in ways other than performance. Both distinctions are voted on by The Latin Recording Academy's Board of Trustees.
The honorees will be celebrated in a private event as part of Latin GRAMMY Week on Wednesday, Nov. 16, 2022, at the Mandalay Bay Convention Center. Eduardo Osorio will return as executive producer along with the production team at The Latin Recording Academy.
2022 Lifetime Achievement Award Honorees:
Rosario Flores (Spain)
From the beginning of her remarkable career, this Spanish pop phenomenon has added elegance and understatement to all of her performances, be it a rock ballad, an authentic rumba catalana or a lilting love song. Born in Madrid to a one of the most iconic musical families in Spain, she began recording music at a young age, and enjoyed the tutelage of her older brother, singer/songwriter Antonio Flores, on albums such as 1994's Siento. A year after his tragic passing, Rosario's heart wrenching homage to his memory, "Qué Bonito," became one of her biggest hits. In 2002, a role in Pedro Almodóvar's masterpiece Talk To Her showcased her versatility as an artist, which also shines on her most recent album, 2021's lush Te Lo Digo Todo Y No Te Digo Na.
Myriam Hernández (Chile)
One of Chile's most influential and commercially successful singer/songwriters, Myriam Hernández emerged during the late '80s and left a profound mark on contemporary romantic music. After the success of "El Hombre Que Yo Amo," from her 1990 album Dos, La Baladista de América— as she is known affectionately—has been creating hit after hit thanks to her "amyrianado" style, juxtaposing delicate, nocturnal moods with the inherent passion of her delivery. Hernández has collaborated with respected artists like Gilberto Santa Rosa, Marco Antonio Solís, Cristian Castro and Paul Anka, as well as establishing herself as a respected television personality.
Rita Lee (Brazil)
Rita Lee is one of the best-selling singer-songwriters in the history of Brazil, a visionary artist whose singular sonic identity merges pop balladry, MPB, bossa and new wave. She began her career with the band Os Mutantes, and recorded albums with backing band Tutti Frutti, including the 1975 album Fruto Proibido. In 1979, she released the legendary LP Rita Lee, in partnership with her husband, multi-instrumentalist Roberto de Carvalho, and their collaborations continued throughout the '80s with a long string of radio hits and sold-out concerts. In later decades, she began stepping out of her comfort zone with acoustic recordings like Aqui, Ali, em Qualquer Lugar, a collection of live songs based on Beatles covers.
Amanda Miguel (Argentina)
Born in the province of Chubut, Argentina, Amanda Miguel studied music in Buenos Aires, where she met singer/songwriter Diego Verdaguer, her future husband and creative partner. With Verdaguer as producer, Miguel released a visionary trilogy of concept albums known as El Sonido between 1981 and 1984. Recorded in Los Angeles with top session musicians, the albums connected with lovers of torrid ballads, generating massive hits such as "Así No Te Amará Jamás." In 1992 she released Rompecorazones, a sophisticated excursion into ranchera territory, followed four years later by the pop blockbuster Ámame Una Vez Más. In a career now spanning more than four decades, her passion for music continues with her 2022 "Siempre Te Amaré" tour with her daughter Ana Victoria.
Yordano (Venezuela)
Italian-born Venezuelan singer/songwriter Yordano has infused Latin music with his poetic vision through a delicate, ever-evolving songbook of cosmopolitan pop, tropical idioms and romantic ballads. After earning a degree in architecture, he began his musical career in 1978 as a vocalist with the band Sietecuero. His second solo album, 1984's Yordano , and the song "Manantial de Corazón," made him an international sensation. His subsequent LPs boasted memorable radio hits, such as "Locos de Amor" in 1988 and the social commentary song "Por Estas Calles" four years later. In 2016 he revisited his catalogue on El Tren de los Regresos, featuring guest spots by Carlos Vives, Kany García and other prominent artists.
2022 Trustees Award Honorees:
Manolo Díaz (Spain)
After a decades-long career in the music industry, Manolo Díaz poured his experience as a socially-conscious singer, songwriter and label executive into his role as Senior Vice President and now Board member of the Latin GRAMMY Cultural Foundation®, where he served for over seven years. He was an active participant in the '60s wave of Spanish rock in his native country as a guitarist with Los Sonor, and later writing and producing hits for Los Bravos and Aguaviva. In the '70s, Díaz transitioned to a respected career as a music executive at CBS, Sony, IFPI, and UMG, working closely with such luminaries as Julio and Enrique Iglesias, Raffaella Carrá, Juanes, Carlos Vives and others.
Paquito D'Rivera (Cuba)
The winner of nine Latin GRAMMYs® and five GRAMMYs®, Cuban saxophonist and composer Paquito D'Rivera has enriched the landscape of contemporary Latin music with his sense of humor and artistic panache. He was a founding member of the Cuban progressive supergroup Irakere in the '70s. After a move to the United States in 1980, he created the United Nations Orchestra with the legendary Dizzy Gillespie, bridging Afro-Caribbean styles with jazz. As a soloist, D'Rivera has performed with symphony orchestras all over the globe, championing the inclusion of Latin American composers in the classical repertoire.
Abraham Laboriel (Mexico)
Born in Mexico City, Abraham Laboriel first learned guitar from his father before switching to bass. It was composer Henry Mancini who advised Laboriel to move to Los Angeles in search of session work, and after an international tour with singer Al Jarreau, he cemented his reputation as a technically superb player who could easily adapt to any given style. Much admired in the jazz community, he has worked with greats such as Ella Fitzgerald and Herbie Hancock, and also became the bassist of choice for Latin stars including Julio Iglesias, Rubén Blades and José José.
Latin GRAMMY Week will culminate with the 23rd Annual Latin GRAMMY Awards®, which will be broadcast live from the Michelob ULTRA Arena at Mandalay Bay Resort and Casino on Thursday, Nov. 17, 2022, beginning at 8 p.m. ET/PT (7 p.m. CT) on Univision.
For more information and the latest news, visit the official Latin Recording Academy site at LatinGRAMMY.com. Follow us on Facebook (LatinGRAMMYs), Twitter (@LatinGRAMMYs) or Instagram (@LatinGRAMMYs), and use #LatinGRAMMY on all popular social media platforms.