THE OCEAN RACE FLEET BATTLES THROUGH SOUTH INDIAN OCEAN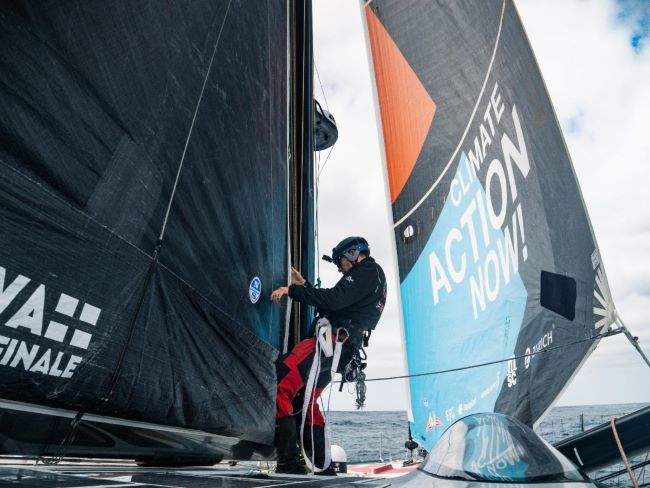 NEWPORT, R.I. (March 2, 2023) — On Day 4 of the grueling Leg 3 in The Ocean Race, Kevin Escoffier's Team Holcim – PRB from Switzerland leads the fleet's charge eastwards in the South Indian Ocean between the 38th and 40th parallels.
Escoffier and crew have won the first two legs of the circumnavigation race, and at 1600 UTC today had a 314-nautical-mile advantage over second-placed 11th Hour Racing Team's Mālama, skippered by Rhode Islander Charlie Enright.
The fleet is in the nascent stages of what is expected to be a 30-day-plus leg from Cape Town, South Africa, to Itajaí, Brazil. The 12,700-nautical-mile leg is the longest in the history of the race that dates back to 1973-'74 and takes the fleet across the bottom of the planet, where the storms roll unabated by land.
This leg is the leg that defines The Ocean Race, one that in the past has broken both boat and body, and already there have been numerous incident reports.
START RELOCATED DUE TO WHALES – Sailors all Onboard to Respect Marine Life
Leg 3 started Sunday in Cape Town, South Africa. The fleet was required to sail two laps of an inshore course before setting out to sea, but a pod of whales in the middle of the planned racecourse forced the race committee to move the course closer to shore but into the lee of Table Mountain. That meant the race boats were sailing in winds between 5 and 30 knots as they sailed into and out of a large wind shadow cast by 3,558-foot flat top mountain.
BREAKDOWNS FROM THE START
A TIME FOR PRUDENCE
They're words that each crew will have to weigh with measure with approximately four weeks lying ahead. The fleet is expected in Itajaí around Apr. 1. After a nearly three-week layover the yachts will depart for Newport, Rhode Island, on Apr. 23 and could arrive May 8-12 at Sail Newport.