THE PAWTUCKET BRAIN FAIR and BROWN BRAIN FAIRS ARE AROUND THE CORNER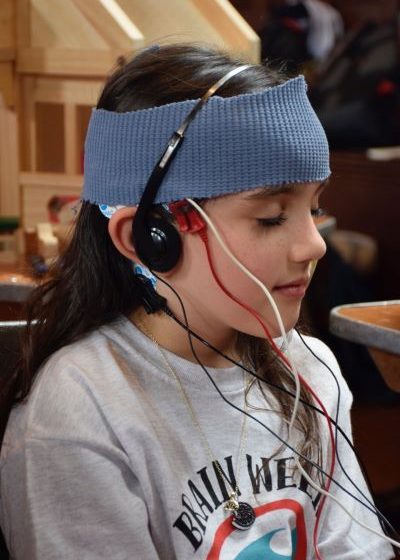 Celebrate Brain Week with Cerebrally Inspiring, Entertaining
Free Activities for the Whole Family
Pawtucket, RI (February 21, 2023)—Parents, teachers, children, educators and revelers will delve into the wonders of the brain through fun, exciting and informative activities at the 2023 Pawtucket Brain Fair, Sunday, March 12, 10am-2pm Hope Artiste Village, Pawtucket, RI. For those who are unable to make it to Pawtucket, the Brown Brain Fair will take place the following week, Saturday, March 18, 10am-2pm, Brown University Engineering Research Center, 345 Brook Street Providence. Both events are free and open to all.
Since 2016, the Brain Fair has been the culminating event of Brain Week Rhode Island, part of International Brain Awareness Week, a global campaign to increase public awareness of the progress and benefits of brain research.
The Pawtucket Brain Fair will feature a variety of stations where visitors can learn about brain health, interact with brain science labs, and pick up community resources. Visitors will have a chance to touch real human brains, measure their brain waves, try on some distortion goggles, and much more. Activities hosted by local businesses will include as free face painting and a chance to make brain art. Experts will give "Lightning Talks" on topics such as brain health, mental illness, sleep, cannabis use, decision-making, and artificial intelligence. Latina 100.3 will be on site with a DJ, broadcasting live from 11am-1pm. Both fairs will feature a variety of stations—from art projects and games for children, to mini-lectures for teens and adults. In addition, the Pawtucket Brain Fair will feature a career fair where students can meet admissions officers from various Rhode Island universities and learn about viable career choices on the sciences.
During Brain Week RI, the BRAINY Visits program also brings fun neuroscience lessons to K-12 classrooms. Led by faculty and students from the State's top colleges and universities, the goal is to inspire kids from all communities to discover the benefits and wonders of a career in neuroscience.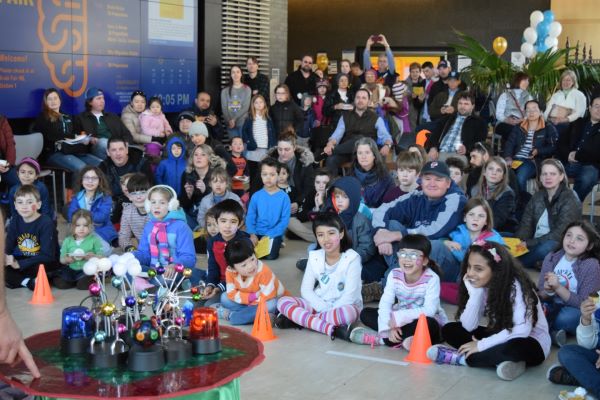 David Upegui, PhD, a science teacher at Central Falls High School said, "The human brain is responsible for our thoughts, emotions, and processing our world. No wonder learning about the human brain is so important for all of us! This is why Brain Week RI has been such an important part of my curriculum at Central Falls High School." He continued, "My school has been participating since 2016 and this year we have the privilege of running one of the outreach sessions at the Brain Fair. We are forever grateful for people like Dr. Victoria Heimer-McGinn (founder and Chair of BWRI) and the rest of the Brain Week group for affording us the opportunity to explore this bundle of neurons." Dr. Upegui was awarded with the prestigious Presidential Awards for Excellence in Mathematics and Science Teaching (PAEMST) in 2017.
Victoria Heimer Mc-Ginn, Co-founder and Co-Chair of BWRI said, "This year, having thought very deeply about diversity, equity, inclusion, and accessibility, we made some key changes to BWRI." She added, "We chose the venue in Pawtucket because it's closer to a diverse community. Additionally, our outreach includes materials and presentations that are in Spanish and Portuguese as well as including ASL translators." Part of this year's celebration will include a Puerto Rican Carnival Parade featuring traditional dancing, made possible by the Puerto Rican Institute for the Arts and Advocacy (PRIAA).
This year's BWRI Co-Chair, Kristin Scaplen, Assistant Professor of Psychology at Bryant University's School of Health and Behavioral Sciences, said, "My current research focuses on understanding the way learning and memory can be disrupted by drugs of abuse or other conditions. I have been delighted to work with Victoria Heimer-McGinn on this important effort to disseminate information and expose a diverse community to these sorts of connections."
This year's keynote speaker will be psychiatrist Alvaro Olivares, MD on the State of Mental Health in RI. Dr. Olivares is chief of the Kent County Memorial Hospital's cultural psychiatric program, chief of the ECT unit at Butler Hospital, and former radio host of "Mental Health with Dr Olivares."
About Brain Week RI
Since 2016, Brain Week Rhode Island has had one mission, to make brain science accessible to everyone. We aim to share the wealth of neuroscience research that supports what we know about brain health, and in doing so highlight the work that is happening right here in the Ocean State. Our efforts bring together experts across disciplines and promote a growing biomedical economic sector that holds great promise for Rhode Island's future.  BWRI aims to (1) increase public awareness of the progress and benefits of brain research, (2) educate people about brain health, (3) educate and inspire the next generation of neuroscientists, and (4) showcase the wealth of neuroscience activity and advocacy in Rhode Island.