To Celebrate Hispanic Heritage Month, Reed Leads Walking Tour of Latino Arts & Small Businesses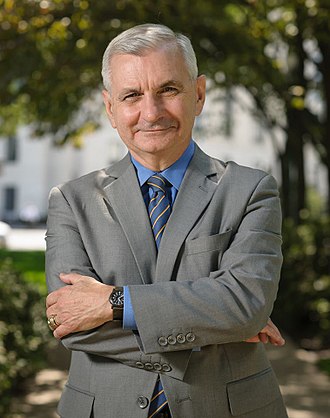 PROVIDENCE, RI – Eat, shop, celebrate, listen, learn, walk, and talk. U.S. Senator Jack Reedwas joined by local leaders for a celebration of Hispanic Heritage Month with a walking tour and cultural conversation highlighting Rhode Island's vibrant Latino arts, restaurants, and small businesses and spotlighting the many contributions of Rhode Island's diverse Latino community and the continued march for progress.
Hispanic Heritage Month is observed annually from September 15 to October 15. It is a time to appreciate and celebrate the colorful cultures, rich histories, and diversity of the nation's Hispanic population whose ancestors came from Spain, Mexico, the Caribbean, and Central and South America.
Today, September 18, Senator Reed and Marta V. Martínez, founder and Executive Director of Rhode Island Latino Arts, on a special walking tour: "Un paseo por la historia y hacia un futuro más brillante" ("A stroll through history and toward a brighter future") that will showcase several Latino-owned small businesses located along Broad Street in Providence. The tour will include stops at several art installments by Latino artists from different backgrounds and also spotlight Latino public servants, veterans, educators, and those who have helped advance civil rights and justice for all.
The tour began at 11:30 a.m. at the Roger Williams Park Gateway Center to explore Café Recuerdos, an art and history exhibit that provides a visual complement to RI Latino Arts' Nuestras Raíces: Latino Oral Histories Project of Rhode Island. The community art installation was commissioned in 2014 and completed by Cuban artist, Ana Flores. The project aims to commemorate the Latin American experience, celebrating the hyphenated reality of becoming Latino-American: honoring the past – allá and embracing the present and future here – aquí.
RI Latino Arts' current artist-in-residence, René Gómez, will also be working on his newest mural on the route.
The tour will conclude with stops outside Pitos Restaurant, Bomes Theatre, and El Ninja Restaurant.
Hispanic or Latino residents now make up 17.6 percent of Rhode Island's population, up from 12.4 percent in 2010, according to the latest numbers from the U.S. Census Bureau. The Ocean State has long been home to thriving Dominican, Puerto Rican, Mexican, Colombian, and Guatemalan communities, among others, each with its own unique traditions and identities within the Latino community that all contribute to Rhode Island's shared culture and heritage.