Trump Heads to New York to Face Hush Money Criminal Case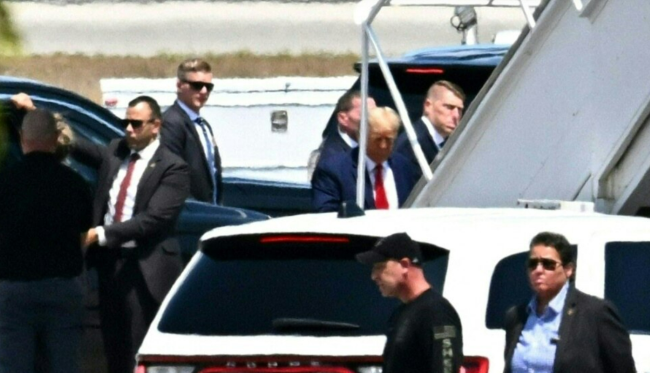 VOA NEWS – Ken Bredemeier
WASHINGTON —
Former U.S. President Donald Trump is flying from his Florida estate to New York, where he plans to spend Monday night at his Trump Tower residence and then turn himself in Tuesday to face a criminal indictment, the first ever filed against a current or former U.S. leader.It is not known how Trump's appearance at a state courthouse will play out. But his lawyers say he emphatically will not plead guilty to charges linked to his $130,000 hush money payment to a porn actress just ahead of his 2016 presidential election victory to silence her about her claim of an alleged tryst with him a decade earlier. Trump has long denied the claim.
Officials familiar with the indictment say a grand jury last week charged the 76-year-old former president with more than 30 counts of criminal wrongdoing. The indictment remains sealed, and the exact charges, and possibly supporting evidence, could remain secret until the indictment is publicly disclosed at Trump's arraignment Tuesday before Judge Juan Merchan in New York State Supreme Court.
When he is booked, Trump is likely to be fingerprinted like any criminal defendant, and his mugshot taken. But authorities say as a deference to his standing as a former president, he is unlikely to be handcuffed or paraded before photographers in a so-called "perp walk."
But questions remain: Will the entirety of the indictment be read in open court? Will cameras — for still shots or television — be allowed in the courtroom, as media outlets are asking for? Will demonstrators, either those supporting Trump or angry at Manhattan District Attorney Alvin Bragg for bringing the charges or expressing hope for a conviction, gather near the courthouse? If they materialize, will the protests be peaceful?
Barricades have been erected to restrict traffic near the courthouse, but Republican Representative Marjorie Taylor Greene, a Trump ally, and the New York Young Republican Club, say they are planning a "peaceful protest" against Bragg across the street from the courthouse on Tuesday afternoon.
Trump already has criticized Bragg on social media for what he says is a political "witch hunt" against him. Trump has contended the judge "hates me," after Merchan, in a separate case earlier this year, fined subsidiaries of The Trump Organization $1.6 million in a tax fraud scheme.
After the proceeding, Trump, who is trying to win the 2024 Republican presidential nomination and reclaim the White House, is planning to fly back to Florida, where he will deliver remarks Tuesday night and gather with his supporters.
Since his indictment last Thursday, Trump's campaign said it has raised $5 million and logged more than 16,000 volunteer sign-ups, which campaign spokesman Steven Cheung said were "key indicators that Americans from all backgrounds are sick and tired of the weaponization of the justice system against President Trump and his supporters."
Before the indictment, Trump led national polls in surveys taken of Republican voters on their choice for the party's presidential nomination. Whether news of the indictment changes that show of support is not known.
The former president is also facing other criminal investigations. They include federal probes of his efforts to upend his 2020 reelection loss to Democrat Joe Biden, including Trump's role in encouraging supporters to try to block Congress from certifying Biden's victory on January 6, 2021, and his retention of classified documents at Mar-a-Lago, his Florida estate. He was required to turn over the material to the National Archives when he left office.
Meanwhile, in a narrower case, a prosecutor in the southern state of Georgia is probing Trump's efforts there to reverse Biden's win when Trump asked election officials to "find" him enough votes to claim victory.
While the details of the New York hush money case remain undisclosed, the outcome of any trial could hinge on the intent behind the payment to adult film actress Stormy Daniels. Michael Cohen, Trump's long-time former lawyer and political fixer, used his own money to make the payment to her just ahead of the November 2016 election and was later reimbursed by Trump in installments, with Trump listing the payments on his corporate ledger as a business expense for Cohen's legal fees.
On Sunday, Trump lawyer Joe Tacopina told CNN the payment to Daniels was a "personal expenditure, not a campaign expenditure." The Wall Street Journal first reported the payment in early 2018.
U.S. legal analysts say prosecutors in the hush money case will face the difficult task of proving that the money paid to Daniels was a campaign contribution to help him win the presidency and not merely intended for personal reasons to hide an alleged marital infidelity.
Tacopina said he and other lawyers will develop Trump's legal strategy to refute the charges once they see the indictment. In Sunday talk show interviews, he brushed aside as premature questions about whether he would ask for a venue change or file a motion to dismiss the case.
"We're way too early to start deciding what motions we're going to file or not file, and we do need to see the indictment and get to work," he told ABC's "This Week" show. "I mean, look, this is the beginning."
But he added, "We're ready for this fight. And I look forward to moving this thing along as quickly as possible to exonerate him."