U.S. Department of Education names East Providence High School, Jamestown School Department as 2023 Green Ribbon Awardees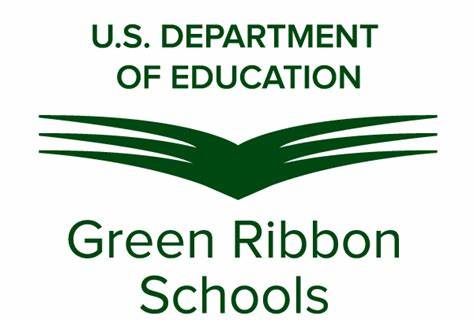 Award is for schools that demonstrate high-quality sustainability practices in facilities and education; represents commitment to promoting environmental equity and improvement
PROVIDENCE, R.I. — Commissioner Angélica Infante-Green and the Rhode Island Department of Education announced today that East Providence High School and the Jamestown School Department have been designated as 2023 Green Ribbon awardees by the U.S. Department of Education. The prestigious award is awarded to schools for their commitment to high-quality sustainability practices in their facilities and environmental education. Recipients are nationally recognized as some of America's most successful educational institutions in reducing environmental impact, improving health and well-being, and providing a valuable education.
"East Providence High School and the Jamestown School Department demonstrate what sustainable, 21st century learning looks like," said Governor Dan McKee. "This designation emphasizes Rhode Island's steadfast approach to creating environmentally conscious learning spaces for our students. We are thrilled that both East Providence and Jamestown have been selected for this distinguished award."
"I am so proud of East Providence High School and the Jamestown School Department for their strong commitment to enhancing student and community wellness in their school," said Chair of the Council of Elementary and Secondary Education Patti DiCenso. "Environmental awareness and literacy are key to a successful learning environment, and the National Green Ribbon School recognition serves as a reminder that our state is making an impact on improving real-world learning."
East Providence High School is one of many school buildings across the state to undergo major transformations to update outdated administrative and educational spaces. Opened in the fall of 2021, the new EPHS includes state-of-the-art career and technical education pathways, athletic and performing arts spaces, science labs, and new classroom technology. Replacements of the outdated and near-failing HVAC, sewage and electrical systems were made as well.
The Jamestown School Department has also undergone renovations and additions to their facilities in the last few years, with a solar carport being installed at the Melrose School and solar roof arrays at the Lawn School, which generates more than 95 percent of electricity for the district. Updated ventilation systems have been installed for healthy indoor air quality, as the health and wellness of both students and staff is paramount to the district. Students are also involved in environmental education such as composting, pollution prevention, hydroponics, and gardening.
"Sustainable and modern school buildings are crucial to promoting success and excellence in education for every Rhode Island student," said Commissioner Angélica Infante-Green. "We are excited that the statewide efforts to rebuild and renovate schools are having a positive impact on our communities and state. We congratulate the East Providence and Jamestown school districts on their accomplishment and for working hard so students can experience a true 21st century learning environment."
"On behalf of the City of East Providence, we congratulate the East Providence School Building Committee, the East Providence School Committee, Superintendent Sandra Forand and the students and staff on such an amazing recognition," said Mayor Bob DaSilva. "A lot of thought and processes went into making this school as green as possible including implementing conservation measures and making the school as energy efficient as possible. We thank the U.S. Department of Education for this amazing recognition and are proud to boast that our high school is a Green Ribbon School."
"East Providence High School is excited to be recognized as a 2023 Green Ribbon School by the U.S. Department of Education," said East Providence High School Superintendent Dr. Sandra Forand. "The design of the building was a collaborative effort between so many focusing on the three pillars of being a Green Ribbon School including: reducing environmental impact, improving the health and wellness of our students and staff, and putting a significant emphasis on environmental and sustainability education. As the first comprehensive high school in the State of Rhode Island, it is benchmarked for the Environmental Protection Agency (EPA) Portfolio Manager and features LED fixtures, daylighting, efficient HVAC systems, bioretention areas, and pervious surfaces."
"Jamestown has made green education a priority in our district, and we are honored that it has paid off," said Jamestown Superintendent Dr. Ken Duva. "Preserving our Rhode Island environmental landscape is crucial to a successful future. We are committed to continuing giving our students the sustainable education they need and deserve."
"The Town congratulates the Jamestown School Department for being recognized as a leader and is a proud partner in their commitment to renewable energy," said Jamestown Interim Town Administrator Edward A. Mello.
East Providence High School and the Jamestown School Department were two of 26 schools, 11 districts and four postsecondary institutions being honored for their commitment to green education in 2023. The school and district were named from a group of candidates nominated by 18 different states. To view all of the winners, please go to the award winner page. You may also access the full report with information for all honorees. For more information on the award, please visit the U.S. Department of Education's Green Ribbon School homepage.