U.S. Senate Passes Bipartisan Bill to Reauthorize Fire Grant Programs That Support RI Firefighters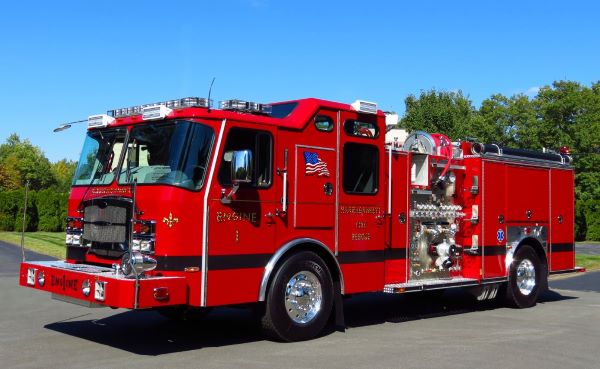 Reed urges U.S. House of Representatives to follow suit and approve reauthorization of federal programs that provide millions of dollars for RI Fire Departments
PROVIDENCE, RI – Millions of dollars in federal grants to help local fire departments could flow to Rhode Island thanks to today's U.S. Senate passage of the Fire Grants and Safety Act.  U.S. Senator Jack Reed was among the 95 senators who voted in favor of the measure, which now must be passed by the U.S. House of Representatives before it can be sent to President Biden's desk to be signed into law.
The Fire Grants and Safety Act reauthorizes federal grant funding for the Assistance to Firefighters Grant (AFG) Program and the Staffing for Adequate Fire and Emergency Response (SAFER) Program, and the U.S. Fire Administration.
Federal funding for these programs is scheduled to expire at the end of September, unless Congress acts to reauthorize them.
Last year, Rhode Island fire departments and other first responders across the state were awarded $28.4 million in federal funding through Federal Emergency Management Agency's (FEMA) Assistance for Firefighters (AFG) and the Staffing for Adequate Fire and Emergency Response (SAFER) grant funding.
"Passing this legislation is a critical step toward supporting our firefighters and first responders with the targeted resources, tools, and training they need.  Federal AFG and SAFER grants help our firefighters effectively do their jobs and improve public safety.  I am committed to reauthorizing these critical grant programs so that local fire departments can meet their equipment, training, and staffing needs.  Ultimately, this money helps protect our communities and improves emergency response services," said Senator Reed, a senior member of the Appropriations Committee, who led efforts to include a total of $720 million for the AFG and SAFER programs in the fiscal year 2023 appropriations law.
AFG grants help firefighters and other first responders obtain critically needed equipment, protective gear, emergency vehicles, training and other resources necessary for protecting the public and emergency personnel from fire and related hazards.
SAFER grants are used to help hire frontline firefighters and assist local fire departments comply with staffing, response, and operational standards established by the National Fire Protection Association.
Senator Reed leads annual fire grant workshops for fire departments across the state to help them compete for these federal funds.  Visiting fire stations across the state, Senator Reed has seen firsthand how these federal funds are put to good use by local fire departments.
In 2022, Rhode Island fire departments were awarded $14.6 million in AFG funds, supporting 40 projects and initiatives across the state.  Fire stations used this funding to purchase communications equipment and new, state-of-the-art firefighting gear and vehicles. AFG funds also help develop and implement fire training and education programs and improve emergency medical services.
Rhode Island cities and towns also received $13.75 million in SAFER grants in 2022.  This federal funding is being used to support the hiring and retention of 44 firefighters across the state and will also be used to help recruit and retain volunteer emergency responders.
"AFG and SAFER funds enhance public safety and improve fire departments' emergency response capabilities.  It is critical we renew these programs and appropriate funds to carry out their intended purpose," continued Senator Reed.  "Our firefighters do so much for our communities and Congress must support their heroic efforts.  It is imperative our firefighters have the equipment, staffing, and technical training needed to operate safely and effectively in a range of emergencies.  The House leadership needs to get moving and bring this bipartisan bill to the floor."
The Senate-passed Fire Grants and Safety Act would reauthorize AFG and SAFER through 2030.  The bill would also authorize $95 million for the United States Fire Administration – a nearly $20 million increase from current levels.