UConn Tops San Diego State for Men's College Basketball Championship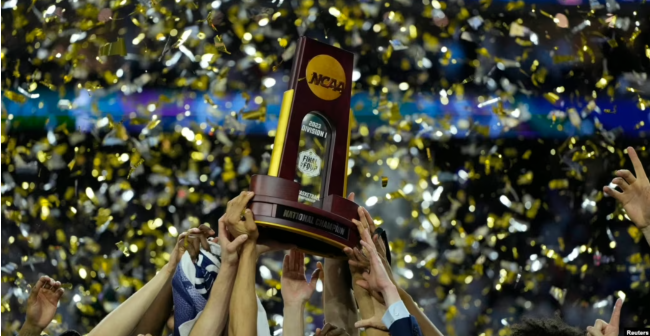 VOA News
The University of Connecticut earned its fifth U.S. men's college basketball championship Monday with a 76-59 victory over San Diego State.
UConn's Adama Sanogo, who is originally from Mali, was named the tournament's Most Outstanding Player after scoring 17 points and pulling down 10 rebounds in the final game.
UConn got out to a strong start, building a 16-point lead late in the game's first half. But San Diego State responded in the second half, cutting the UConn advantage to just five points with about five minutes left in the game.
Then a UConn run of nine unanswered points put the game out of reach.
Monday's men's title game followed the women's championship game Sunday in which Louisiana State University topped the University of Iowa 102-85 to win the school's first title.
Jasmine Carson led LSU with 22 points as the team surpassed the previous record of 97 points scored by one team in a women's championship game.
There was also record interest in the contest, as 9.9 million viewers made it the most watched NCAA women's basketball game on record.
Some information for this report came from The Associated Press.