UMass Dartmouth faculty awarded grant to develop training in the treatment of opioid use disorder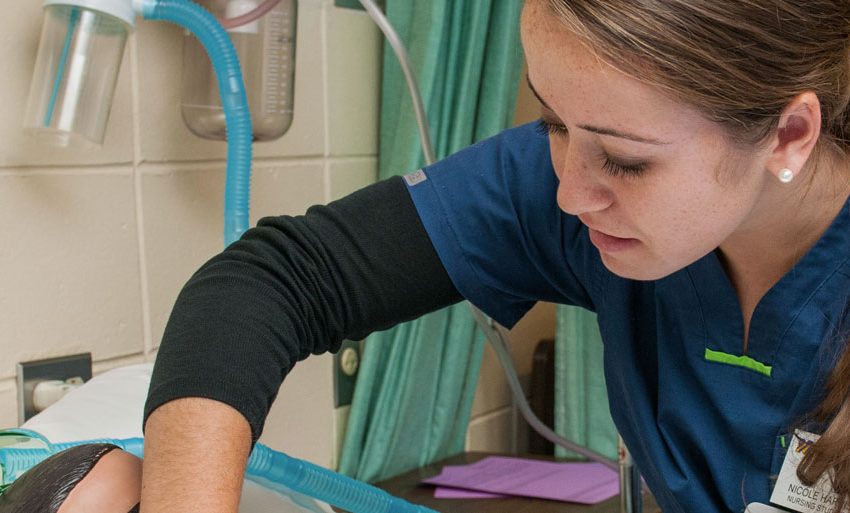 The $595,485 grant from the Foundation for Opioid Response Efforts (FORE) will aid future nursing students in addressing stigma towards opioid use disorder
UMass Dartmouth College of Nursing & Health Sciences faculty members Professor Mary McCurry, Assistant Professor Monika Schuler, Assistant Professor Jennifer Viveiros, Assistant Professor Shannon Avery-Desmarais, and Assistant Professor Mirinda Tyo were part of a research team that was recently awarded a two-year $595,485 grant from the Foundation for Opioid Response Efforts (FORE). Their project, titled "Novel Organizational Simulation Training to Improve Graduate's Mastery & Attitudes (NO STIGMA)," aims to develop an evidence-based toolkit of high-fidelity simulations for undergraduate, masters, and doctoral nursing students to address stigma towards populations with opioid use disorder.
"While the COVID-19 pandemic has been at the forefront of our nation's public health priorities for the last two years, it is critical to remember that the opioid crisis and its stigma continue," said Dean Kimberly Christopher of the College of Nursing & Health Sciences. "We are extremely grateful to FORE for this generous and timely grant that will assist in preparing future nurses to treat patients with opioid use disorder with the highest levels of care and compassion. This grant reflects the high quality of the proposal submitted by our faculty who are experienced practitioners, educators, and researchers on this topic."
Dr. McMurry added, "The stigma of opioid use disorder has been associated with significant health disparities. Our team is very excited for the opportunity to make a difference in addressing this very important issue."
The Foundation for Opioid Response Efforts (FORE), a private 501(c)(3) national grant-making foundation focused on ending the nation's opioid crisis, announced 11 new grants totaling $4.8 million to support innovative solutions to some of the opioid crisis' most challenging problems. These grants were selected from nearly 500 applications. Other grant recipients include researchers at Montefiore Medical Center in Bronx, NY; Brown University in Providence, RI; Temple University in Philadelphia, PA; Tufts University School of Medicine in Boston, MA; and the University of North Carolina in Chapel Hill, NC.
"We are launching our Innovation Program to generate and support new approaches to some of the long-standing barriers to making real progress in addressing the opioid crisis – how to better tackle stigma, generate more timely and actionable data, and help for people transitioning from treatment to long-term recovery," says FORE President Dr. Karen A. Scott. "These projects have great potential to give us exciting new tools and lessons that will help communities around the country respond to the crisis more effectively, inform future policy decisions, and ultimately save lives."
The UMass Dartmouth team's project aligns with FORE's goal of producing professional education and training opportunities to address stigma. These educational interventions will aim to enhance knowledge and empathy in the next generation of nurses and nurse practitioners to remove barriers to treatment and improve outcomes for patients with opioid use disorder.