UMassD Star Series celebrates season finale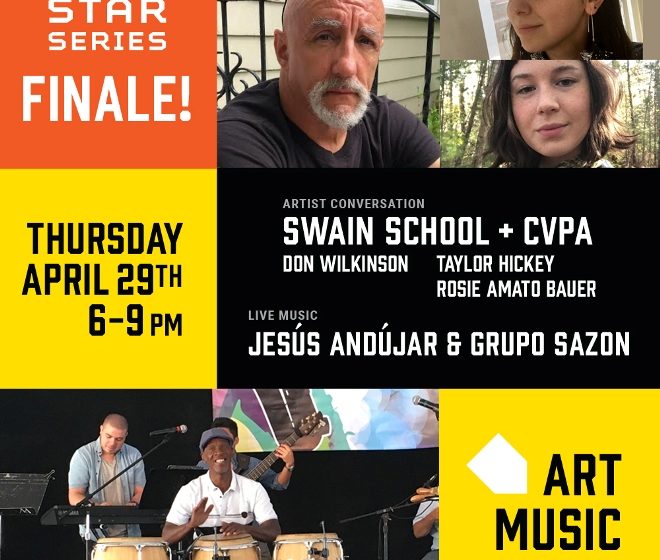 The public art experience will hold its final showing on April 29 at 6 p.m. in downtown New Bedford
On Thursday, April 29 from 6 to 9 p.m., the UMass Dartmouth College of Visual & Performing Arts (CVPA) will host the finale of the 13-week CVPA Star Series in downtown New Bedford.
The 3-hour program of live music and visual arts will begin with remarks by Chancellor Mark Fuller and continue with a conversation by Swain School (a UMassD predecessor institution) graduate and professional artist/art critic, Don Wilkinson, and current CVPA students. This talk will be followed by live music from the Latin Jazz group, Jesús Andújar & Grupo Sazon.
Audiences are invited to watch the live performances safely from outside the large street-level windows, on the corner of Purchase and Union Streets in Downtown New Bedford. The Purchase Street block in front of the Campus will be closed to traffic. The performances can be viewed live on www.facebook.com/umassdcvpa/live.
Attendees can participate in various arts activities on the block of Purchase Street directly in front of the Star Store. Activities include a throw-a-thon by members of the Clay Club, a demonstration by Artist in Residence Tracey Cockrell, dance performances by 3rd EyE Youth Empowerment, printmaking, participatory art with the Art Mobile from Art Museum, and projections onto the Union Square office building by UMassD students.
The evening will also feature an Art Swap. The public is encouraged to bring a piece of original artwork, small enough to carry and choose a piece of artwork to take home. Attendees can donate $10 or more for pieces as well. All donations will support the Marc St. Pierre Memorial Scholarship, named after the Swain School of Design and College of Visual and Performing Arts professor who passed away in 2019.
The CVPA Star Series began the first Thursday in February and was presented each Thursday on stage inside the Swain Studio at the CVPA Star Store Campus. The Series was co-curated and co-produced in collaboration with Don Burton Media and Beatriz & Company with support from UMass Dartmouth and the City of New Bedford's #NBfestive Winter Places project. In-kind support has been provided by Chase Canopy and Lightworks Productions Inc.