Union Fire District of South Kingstown Adds New Pumper Truck, Engine 21, to Serve Tuckertown Station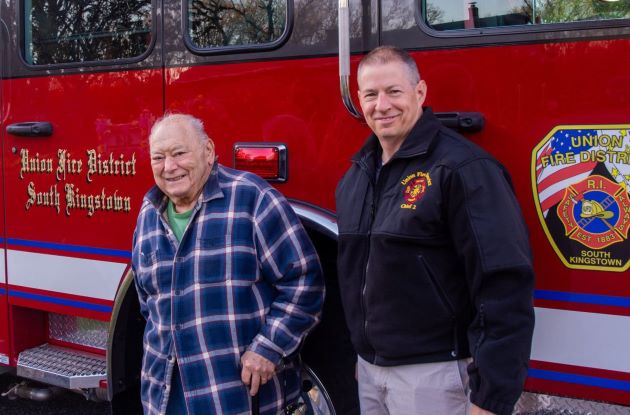 PHOTO:  Anthony Ciccone, chair of the UFD Board of Wardens, left, with Union Fire District Chief Steven Pinch stand in front of the new Engine 21, put in to service recently to serve Tuckertown Station. (Photo courtesy Union Fire District of South Kingstown)
SOUTH KINGSTOWN — Chief Steven Pinch reports that the Union Fire District of South Kingstown has put a new vehicle into service to help serve the needs of residents.
Engine 21 officially went into operation recently, and will be housed at Station 8 Tuckertown. It is specially equipped to handle the unique terrain of the area that the station services.
Anthony Ciccone, chair of the UFD Board of Wardens, was instrumental in securing the new vehicle.
"The neighborhood is a large rural area with very few hydrants and developments with narrow roads, and this truck will better be able to serve residents in the case of an emergency," Ciccone said. "It has a shorter wheelbase and foam tank installed, which we decided was beneficial after meeting and discussing the needs of the station."
The UFD has a standing truck committee that reviews options, specs and more whenever the department needs to purchase a new vehicle. Chief Pinch, Ciccone and the station captain of the station receiving the truck all collaborate on the process.
The 2022 Class A Smeal-brand pumper truck was purchased through Connecticut-based New England Fire Equipment & Apparatus, which UFD has used many times in the past to purchase new vehicles. It is equipped with several modern safety features such as backup cameras and suspension specific to the terrain of the Tuckertown area.
The UFD put the order in for the new vehicle approximately one year ago. Ciccone has been on the Board of Wardens since 1991, and during that time every one of the UFD's vehicles has been replaced, with some having been replaced more than once.
"The process of purchasing a new vehicle can be a bit overwhelming but after updating our apparatus so many times over the years we have a very good idea of what we need for each specific station, and look forward to adding Engine 21 to our fleet," Chief Pinch said.
Engine 21 will be replacing a pumper that will be reassigned to Station 3 Forestry, which in turn will be replacing a truck that will now be used as a reserve vehicle.