Union Fire District of South Kingstown Assists Seniors at Regional COVID-19 Clinic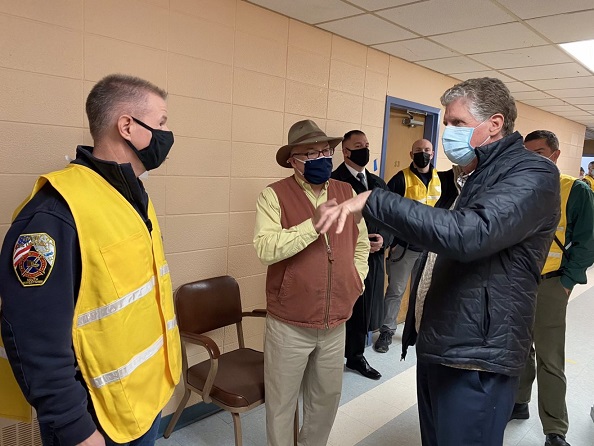 Chief Steven Pinch of the Union Fire District of South Kingstown, left, speaks with Rhode Island then-Lt. Gov. Daniel McKee at the regional COVID-19 vaccination clinic last Saturday. (Photo courtesy Union Fire District of South Kingstown)
SOUTH KINGSTOWN — Chief Steven Pinch is pleased to report that members of the Union Fire District of South Kingstown have been providing a detail at the regional COVID-19 vaccination site in town.

Members of the Union Fire District have been helping transport elderly patients to and from their vehicles at the clinic, which is located at the South Road Elementary School building in South Kingstown.

The clinic is a regional site that opened in December and started with first responders and now is working on providing the vaccine to elderly members of the communities of Charlestown, Richmond, Hopkinton, North Kingstown, South Kingstown and Narragansett.

Chief Pinch also volunteered on Saturday, Feb. 27 to assist directing members of the public inside the clinic.

"It means a lot to be able to assist our senior population receive this vaccine," Chief Pinch said. "I commend the members of the UFD for the work they have done providing assistance, as well as to the other law enforcement and health care workers who have made this regional site run so smoothly since opening back in December."

Members of the Union Fire District of South Kingstown continue to recommend residents follow proper COVID-19 safety protocols, including mask wearing when in public, social distancing and avoiding large gatherings. For more information, visit the Rhode Island Department of Health COVID-19 information portal here.