Warren Signs Learn365RI Municipal Compact, Commits to Increasing Out-of-School Learning Opportunities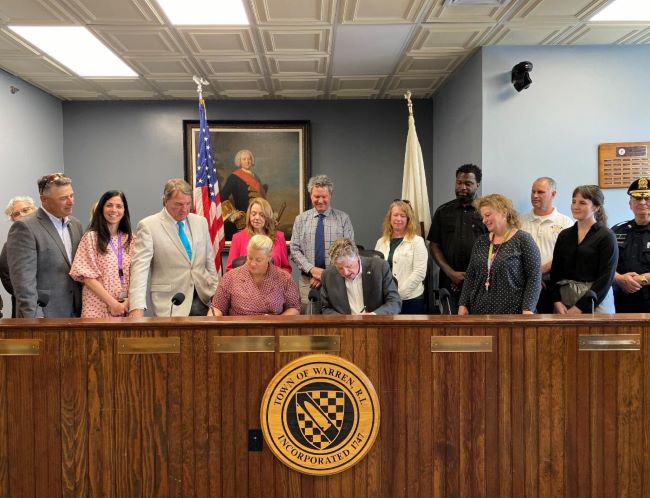 WARREN, RI – On Wednesday, Governor Dan McKee, Warren Town Manager Kate Michaud, and Council President John Hanley signed the Learn365RI Municipal Compact.
"Our kids want to learn, parents want their kids to achieve, and we all want Rhode Island to be best in class when it comes to education," said Governor McKee. "With Warren joining the Learn365RI Municipal Compact, Town Manager Michaud, Council President Hanley, and school officials are showing their commitment to ensuring local students receive the very best education."
"The Town of Warren is proud to support the Learn365RI initiative. We are thankful for the opportunity to collaborate with the Governor and our community partners to enhance learning opportunities for all of Warren's youth – and hopefully to have some fun at the same time. We applaud Governor McKee's vision and we look forward to the work ahead," said Warren Town Manager Kate Michaud.
Learn365RI seeks to improve student learning outcomes to reach Massachusetts levels in three key metrics: RICAS math and English Language Arts scores, student attendance, and FAFSA completion.
Warren is the sixth community to commit to partnering with the state to improve student achievement levels through increasing out-of-school learning time – joining Newport, Bristol, East Providence, East Greenwich, and Providence.