WBSC Baseball Final Qualifier – Dominican Republic qualifies for Tokyo 2020 Olympic Games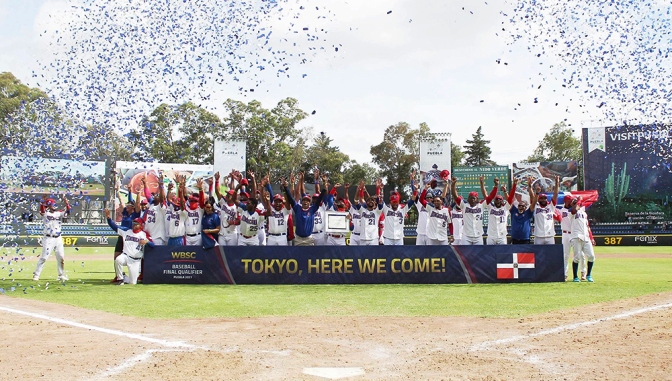 The Dominican Republic clinched the sixth and final berth in the Tokyo 2020 Olympic Games baseball competition with an 8-5 win over Venezuela on Saturday in the final game of the WBSC Baseball Final Qualifier played in Puebla, Mexico. The Caribbean team recovered from a three-run deficit in the second inning to secure the country's second Olympic appearance.
In the bottom of the third, the Dominican Republic started the come-back. With two outs on the scoreboard, leadoff hitter Emilio Bonifacio drew a walk and Venezuelan manager Jose Alguacil replaced his starter Yapson Gomez with Eduardo Paredes. However, Melky Cabrera (who had only one hit in the previous two games in the tournament) sent a 0-1 pitch into the right-field bleachers to make it a one-run game.
One inning later, the Dominican Republic exploded with six runs to take the lead in the game. The team managed by Hector Borg sent nine hitters to the plate, collecting five consecutive hits to open the inning and a sacrifice fly to make the score 8-3 and turn the game in their favour.
Venezuela managed to score a pair of runs in the last innings, but their effort came up short.
The Dominican Republic's only previous qualification for the Olympic Games was in 1992 when baseball was included on the Olympic programme for the first time. They won two of their seven games to finish sixth out of eight teams. They recorded wins against Spain and Italy.
The Dominican Republic joins Israel, Japan, Korea, Mexico and USA in the six-team baseball competition at the Tokyo 2020 Olympic Games.
Day 5 Result
Day 5 Highlights
The Dominican Republic qualified for the Olympic Games for only the second time.
The Dominican team has won all three games against Venezuela this summer, including a 14-4 win at the Americas Qualifier in Florida and a 10-7 victory in Puebla in the Final Qualifier's opening game on Tuesday.
Venezuela's Alexi Amarista was the best hitter of the tournament with a .462 batting average. He tallied 6 hits, 2 homers and 3 RBI.
The Dominican Republic finished undefeated in the Final Olympic Qualifier, scoring 22 runs and giving up 15.
Half of the teams in the Olympic Games will come from the Americas. Mexico was the continent's first qualified nation, winning the bronze medal at the Premier12 2019; while USA and Dominican Republic advanced to Tokyo 2020 by winning the Americas and Final Olympic qualifiers respectively.
Diego Goris and Gustavo Nuñez led the Dominican Republic in batting average with .417. As a team, the Caribbean squad hit .302 in the tournament.