Weather Alert: Hot and Humid, with Severe Thunderstorms Thursday Evening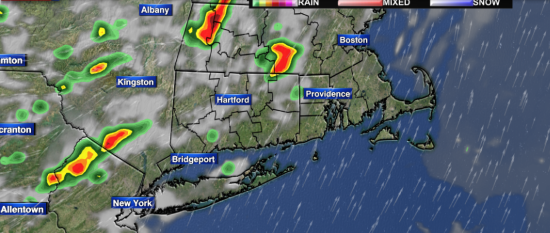 Southern New England region will experience its warmest days so far this summer, hot and humid, with most locations reaching the upper 80s to low 90s Thursday through Saturday. Yet the focus is shifting from the heat to the potential of severe weather Thursday evening.
Humidity has jumped as a warm front lifted through Southern New England Thursday morning. With temperatures near 90 and dew points in the 70s, We're expecting temperatures this afternoon will rise into the upper 90s to around 100..
Be sure to drink plenty of water, limit strenuous activity, and spend time in air conditioning such as at cooling centers across Rhode Island. Check in on your neighbors and elderly. Also, your pets should be given cool shelter and plenty of water.
The main concern on Thursday is the potential of damaging wind gusts. There is also a non-zero chance of a tornado, the window of concern is between 5 PM and 9 PM. Most of the day will be dry, but some strong to severe storms are possible in the afternoon and early evening.
Friday is all about the heat and humidity. In fact the worst of the heat will likely be Friday. A Heat Advisory will be in effect as heat index values climb into the triple digits due to temperatures warming into the 90s and dew points holding in the mid-70s.
There is a cold front sweeping through Saturday afternoon. Sunday through Tuesday should be unbelievable!
At the beach, highs will be in the mid 80s with high humidity. You might think it would be a great place to cool off, but a High Surf Advisory is in effect today. Dangerous rip currents are possible due to the rough surf.