WEEKEND CLOSURE PLANNED NOVEMBER 3-6 FOR ROUTE 37 EAST IN CRANSTON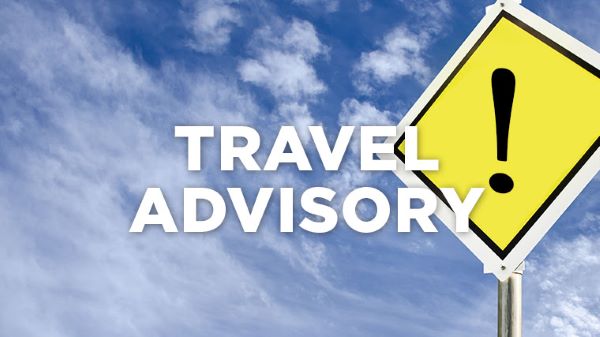 Starting on Friday night, November 3, the Rhode Island Department of Transportation (RIDOT) will begin the process of sliding in a new bridge deck for Route 37 eastbound over the Pawtuxet River, near the Pontiac Avenue exit, in Cranston. This operation will require a complete closure of Route 37 eastbound between I-295 and I-95, lasting through the weekend with all lanes reopening on Monday, November 6. Additionally, ramps connecting I-295, Route 2 and Pontiac Avenue with Route 37 eastbound will be closed for the weekend.
RIDOT strongly advises motorists to plan ahead and use alternate routes to bypass the closed highway.
The closure does not affect Route 37 westbound, or travel in either direction of Pontiac Avenue underneath the Route 37 overpass.
RIDOT will sign detour routes for the weekend closure. Drivers on I-295 or points west should follow I-295 South and use Exit 27A (Route 117 East) to reverse direction onto I-95 North to reach Route 37. Motorists coming from points north should use I-95 South to Route 37, or other local roads.
RIDOT built the new bridge adjacent to the old one. In just one weekend, the Department will demolish the old bridge and slide the new one into place. This rapid approach to bridge construction saves considerable time and delay for motorists compared with conventional construction of a new bridge, which would take up to two years.
A map of suggested alternate routes is available at www.ridot.net/DetourMaps.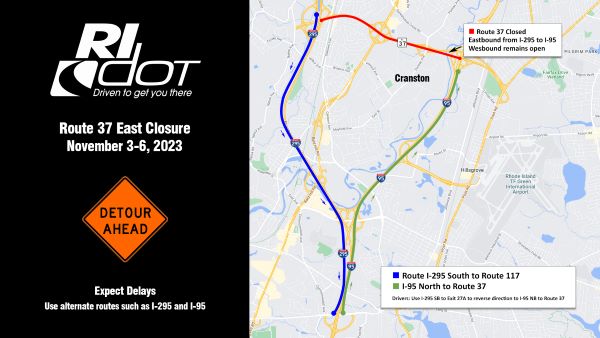 The bridge slide is part of a $75.9 million, multi-bridge project to repair deficient bridges along the Route 37 corridor with preservation, major rehabilitation, and/or reconstruction of 12 bridge structures in Cranston and Warwick. Six of these bridges are structurally deficient. Four will be replaced and two other bridges will be rehabilitated. The project also includes safety improvements at the Pontiac Avenue interchange from Route 37 West.
Route 37 is a critical east-west freeway in central Rhode Island, linking the cities of Cranston and Warwick, major retail, office and residential areas, Interstate highways and T.F. Green State Airport. With a daily traffic count of 42,000 vehicles, Route 37 is one of the state's busiest corridors.
The project is funded in part by a $20 million federal TIGER grant secured by Rhode Island's Congressional delegation.
All construction projects are subject to changes in schedule and scope depending on needs, circumstances, findings, and weather.
The Route 37 Project is made possible by RhodeWorks and the Bipartisan Infrastructure Investment and Jobs Act. RIDOT is committed to bringing Rhode Island's infrastructure into a state of good repair while respecting the environment and striving to improve it. Learn more at www.ridot.net/RhodeWorks.