When Schools Open, Remember to Drive Carefully!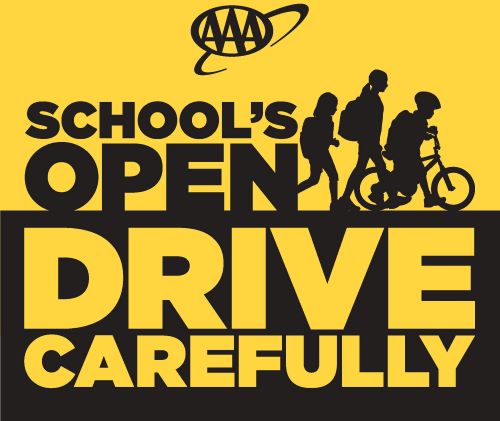 As part of its annual School's Open – Drive Carefully campaign, AAA Northeast encourages drivers to use extra caution and allow more time in their commutes as young pedestrians and cyclists make their way to and from school each day, and fleets of school buses take to the roadways. 
Watch for pedestrians who are walking against a red light, stepping into traffic from between parked vehicles, and crossing in locations not marked by a crosswalk. Even in these situations, drivers must yield to pedestrians. 

If red lights are flashing on a school bus, and a stop arm is extended, motorists approaching from either direction must come to a full stop and remain stopped until the bus lights no longer flash. This requirement applies to public highways, private roads, and in parking lots. 
 "AAA's School's Open-Drive Carefully campaign dates back 1946, but with traffic fatalities on the rise, this message is critical," said Mark Schieldrop, Public Affairs Specialist at AAA Northeast.
Children will soon be returning to schools across the state. It is especially important that all drivers are alert, as many children walk or bike to school. AAA urges motorists to slow down, allow more time to get to your destination, stop for school buses when red flights are flashing, stay off your phone and other devices, yield for pedestrians in crosswalks, obey crossing guards and exercise patience.  Police departments will have increased patrols on traffic safety and conducting enforcement, when necessary, especially in school zones. It's everyone's responsibility to obey traffic laws and keep children safe as they embark on a new school year. 
AAA's annual Traffic Safety Culture Index survey shows concerning driving behaviors that put pedestrians and cyclists at risk, especially children. When asked about their personal driving behaviors within 30 days prior to the survey: 
35% reported driving 10mph or faster on residential streets. 

37% of respondents reported driving while talking or reading content on a hand-held cell phone while driving, and about a quarter admitted to driving while typing or sending a text/email on a hand-held cell phone at least once in the past 30 days. 
More than 44% of drivers who responded to the survey support using cameras to automatically ticket drivers who drive more than 10 mph over the speed limit on residential streets.