Whitehouse Joins Cranston Officials and Mental Health Professionals to Celebrate Improved Crisis Intervention Training for Local Law Enforcement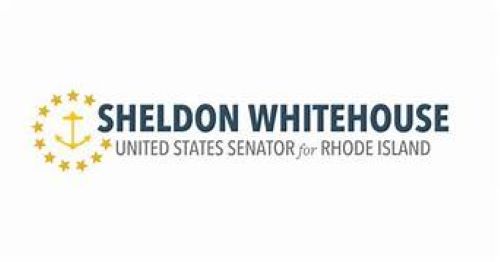 Cranston, RI – U.S. Senator Sheldon Whitehouse today joined Cranston Mayor Ken Hopkins and representatives of the Cranston Police Department, Thundermist Health Center, Cranston Comprehensive Community Action Plan, and Gateway Emergency Health Services to announce improvements to de-escalation and crisis intervention training for local police officers.   Whitehouse helped shepherd the bipartisan Law Enforcement De-escalation Training Act into law in late December, and also delivered a $500,000 Community Directed Spending request to the Cranston Police Department's Crisis Intervention Team (CIT) program in the government funding bill that became law at the end of the year.
"Rhode Island's brave law enforcement officers put their lives on the line to serve and protect our state.  Police are often first on the scene when someone is dealing with a mental health or behavioral health issue," said Senator Whitehouse.  "Last month, I succeeded in passing measures into law that will ensure Rhode Island police officers have the right training for life-saving crisis intervention and de-escalation, and the proper resources to connect people in crisis with the help they need.  Rhode Island departments – especially the Cranston Police – and local mental health partners have shown leadership on this issue for years now, and I'm proud to stand alongside them today."
"A quality police department is necessary to guarantee public safety for our citizens.  It is my number one priority.  Keep Cranston safe," said Cranston Mayor Ken Hopkins.
"I want to thank Senator Whitehouse, Mayor Hopkins, members of the Cranston Police Department and our community partners for making mental health a priority in our community.  This federal funding will have a great impact in expanding our Crisis Intervention Team and our current partnerships with Gateway Mental Health, the Cranston Comprehensive Community Acton Program and Thundermist Health.  The Crisis Intervention Team (comprised of police officers, mental health clinicians and social workers) over the past year provided face to face follow up visits with more than 500 individuals with mental illness or experiencing a mental health crisis.  Nearly half of these individuals accepted a wide range of services that have improved their lives, created a safer city, and reduced the expense associated with repetitive calls to common addresses.  We look forward to the enhancing our partnerships and future success," said Colonel Michael J. Winquist, Chief of Police for the Cranston Police Department.
"Investments in evidence based training models that focus on de-escalation techniques and alternatives to use-of-force are meaningful investments in our communities; it demonstrates a commitment to improve the outcomes of those experiencing a behavioral health crisis when they intersect with law enforcement.  The demand for these types of trainings has increased dramatically over the last few years, and this new legislation will make available much needed resources for agencies who want to access them," said Liz Gledhill, Rhode Island statewide Crisis Intervention Team coordinator and CIT-RI project manager at Thundermist Health Center.
"I am so thankful to Senator Whitehouse for securing this funding which will allow CCAP to continue to provide crisis intervention services in partnership with the Cranston Police.  CCAP enjoys a longstanding relationship with the Cranston Police in working together for the betterment of the residents of Cranston.  This is yet another example of the City of Cranston seeking out and providing assistance to its residents," said Joanne McGunagle, Chief Executive Officer of Comprehensive Community Action.
"Gateway is proud of the partnership with Cranston Police and how it has grown since beginning about one year ago.  The clinicians have been able to assist those in psychiatric crises, follow up to make sure anyone who is in need of services can be connected, as well as work alongside the department to destigmatize behavioral health for the community," said Amy McCarthy, LICSW, Mobile Crisis Clinical Coordinator at Gateway Emergency Services.
On December 27, President Biden signed Whitehouse and Senator John Cornyn's (R-TX) Law Enforcement De-escalation Training Act, which will equip law enforcement officers with the tools to effectively and safely respond to people in crisis.  Whitehouse's Law Enforcement De-escalation Training Act will require the Department of Justice to work with experts to develop comprehensive trainings on de-escalation tactics, alternatives to use of force, safely responding to mental, behavioral, and suicidal crises, and making referrals to community-based mental and behavioral health services and support and other social programs.  The new law also builds off the existing Edward Byrne Memorial Justice Assistance Grant program to create a dedicated stream of funding for local and state law enforcement agencies to train their officers and the mental health professionals who work with them.  The Senate passed the bill by unanimous consent.  Reps. Karen Bass (D-CA) and Darrell Issa (R-CA) co-led the House companion.
In the FY2023 government funding measure, Whitehouse secured a $500,000 appropriation for the Cranston Police Department's CIT mental health response.  The funding will allow the Cranston Police Department to create and fill a dedicated response position within the department.  This initiative will deliver better services to residents and reduce strain on city resources like patrol officers and emergency response personnel.
Last July, Whitehouse and U.S. Senator Jack Reed (D-RI) announced $1.2 million in federal funding to support CIT training for police departments across Rhode Island.  As part of the expansion, Thundermist Health Center, in partnership with the Rhode Island Police Chief's Association, is working to equip local police departments with the tools to divert people in crisis away from the justice system and connect them with mental and behavioral health resources.