Woonsocket Signs Learn365RI Municipal Compact, Commits to Increasing Out-of-School Learning Opportunities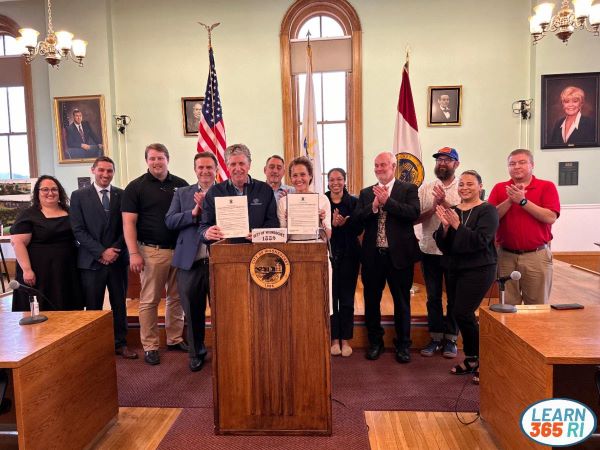 WOONSOCKET, RI- Yesterday, Governor Dan McKee and Woonsocket Mayor Lisa Baldelli-Hunt today signed the Learn365RI Municipal Compact.
"Woonsocket has already hit the ground running to provide expanded out-of-school learning opportunities for their students. Today, I'm proud that the City has officially joined 16 other communities in signing our Learn365RI Municipal Compact," said Governor McKee. "I thank Mayor Baldelli-Hunt and our partners in Woonsocket for recognizing the importance of this initiative and joining our growing coalition."
"As the Mayor of Woonsocket, I am pleased to be a part of the Governor's Learn365RI initiative. Offering additional learning time coupled with activities that are of interest to students is a recipe for success," said Woonsocket Mayor Lisa Baldelli-Hunt.
Learn365RI seeks to improve student learning outcomes to reach Massachusetts levels in three key metrics: RICAS math and English Language Arts scores, student attendance, and FAFSA completion.
Woonsocket is the seventeenth community to partner with the state to improve student achievement levels through increasing out-of-school learning time joining Newport, Bristol, East Providence, East Greenwich, Providence, Warren, Smithfield, Pawtucket, North Kingstown, Jamestown, Cranston, Coventry, Hopkinton, Lincoln, Central Falls, and New Shoreham.